Tri-C JazzFest and Jazz at Lincoln Center Collaborate to Honor Clifford Brown
Special collaboration featuring trumpeter Dominick Farinacci to be streamed Jan. 6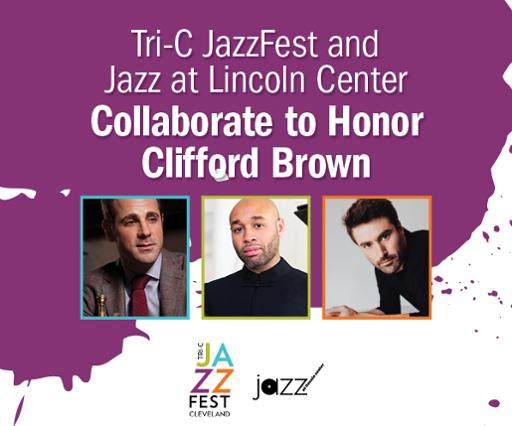 Cuyahoga Community College (Tri-C®) today announced a collaboration between Tri-C JazzFest Cleveland and Jazz at Lincoln Center to celebrate the 90th birthday of late jazz trumpeter Clifford Brown. 
Clifford Brown at 90: Brownie Speaks will be streamed on the Tri-C JazzFest Facebook page and other social media sites at 7:30 p.m. Wednesday, Jan. 6. The hourlong concert is free, but donations are encouraged. 
The pre-recorded performance recognizes the artistry and perpetual influence of Brown, a rising star trumpet player who died at age 25 in a 1956 automobile accident. It is part of a three-day celebration of Brown at Jazz at Lincoln Center. 
Acclaimed trumpeter Dominick Farinacci — an international recording artist who also serves as director of the Tri-C JazzFest Academy — will perform new music that was inspired by some of Brown's most iconic solos during the concert. 
Farinacci will be joined by acclaimed pianists Aaron Diehl and Dan Tepfer. The session will also feature young musicians from Spirit of the Groove, the premier student ensemble from the Tri-C JazzFest Academy. 
"Our collaboration with Jazz at Lincoln Center really endorses our mission to bring world-class jazz to our community," said Terri Pontremoli, director of Tri-C JazzFest. 
Farinacci's path to jazz stardom began in his hometown of Solon and the classrooms of Tri-C. He has released multiple albums, toured the world and become a leading advocate for music education. In 2012, he was named the first Global Ambassador to Jazz at Lincoln Center. 
Diehl and Tepfer joined Farinacci in Cleveland to record the performance at Tri-C's Gill and Tommy LiPuma Center for Creative Arts at Metropolitan Campus. While in town, the pianists conducted a master class for Tri-C students. 
"Aaron and Dan are organic and spontaneous players with strong backgrounds in jazz and classical music," Farinacci said. "I'm excited about what we have created together for these masterful solos celebrating Clifford Brown." 
Tri-C JazzFest is rooted in a mission to educate and nurture the future of jazz. Events throughout the year connect students of all ages with the musical art form. Many programs are free to expand community access to the performing arts. Visit tri-cjazzfest.com for more information.
December 17, 2020
John Horton, 216-987-4281 john.horton@tri-c.edu