Tri-C Hosts Veterans Experience Action Center
Three-day event takes place Aug. 9-11 at Western Campus in Parma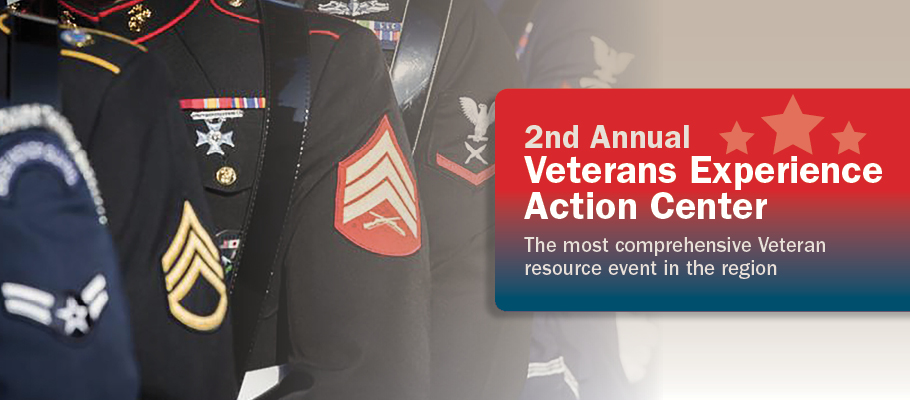 Veterans and their families can learn how to claim benefits and services during the second annual Veterans Experience Action Center, scheduled for Aug. 9-11 at the Western Campus of Cuyahoga Community College (Tri-C®).
The free event brings together federal, state and county organizations dedicated to serving veterans. Specialists will be available to assist with filing or expediting benefit claims; health care enrollment and exams; issuing veteran identification cards; and more.
The Veterans Experience Action Center essentially serves as a claims clinic, providing a one-stop shop for answers and support.
More than 1,100 people received assistance at the inaugural clinic in 2017.
"With every 'thank you' we heard last year, we knew we had to bring this event back," said Rick DeChant, executive director of Tri-C's Veterans Initiative. "Our goal is to break down barriers to make it easier for veterans and military families to access the benefits they earned."
The Veterans Experience Action Center will run noon to 3 p.m. Thursday, Aug. 9, and 9 a.m. to 3 p.m. Friday, Aug. 10, and Saturday, Aug. 12.
Tri-C Western Campus is located at 11000 Pleasant Valley Road in Parma. Parking is free.
For additional information, dial 2-1-1, call 216-436-2000 or visit www.211oh.org to chat with a community resource specialist.
Agencies collaborating on the event with Tri-C include the U.S. Department of Veterans Affairs, Cuyahoga County Veterans Service Commission, American Red Cross, United Way of Greater Cleveland and Dominion Energy Charitable Foundation.
August 02, 2018
John Horton, 216-987-4281 john.horton@tri-c.edu