Tri-C Hosts Fundraiser 'Fore!' a Good Cause
April 4 event at Hospitality Management Center benefits The First Tee of Cleveland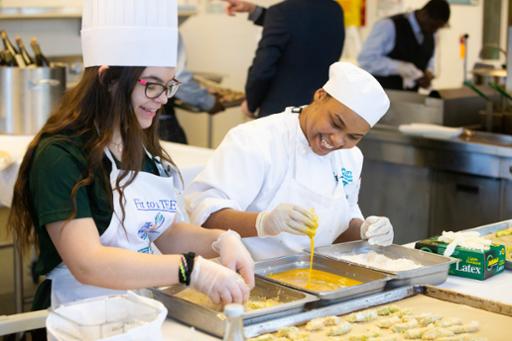 Consider delectable eats par for the course when the Hospitality Management Center at Cuyahoga Community College (Tri-C®) hosts a benefit for The First Tee of Cleveland program.
The second annual "Taste of the Tee" event will take place 5:30-7:30 p.m. Thursday, April 4, at the center, located at 180 Euclid Ave. at Cleveland's Public Square.
Proceeds benefit The First Tee of Cleveland, a character development program that uses the game of golf and other activities to teach youth life and leadership skills. The program served more than 1,600 youth in Northeast Ohio last year.
The event highlights a unique partnership between Tri-C and The First Tee. Children in the golf program use the winter offseason to participate in cooking classes with mentors in the College's culinary program.
Participants in the "Fit to a Tee" cooking program will be cooking up the culinary creations served at the event.
The evening also showcases The First Tee's partnerships with EDWINS Leadership & Restaurant Institute, which will offer wine tastings at the event, and The Music Settlement, which will have students perform.
Tickets to "Taste of the Tee" cost $150 and can be purchased at www.thefirstteecleveland.org or by calling 216-641-7799. The deadline is Thursday, March 28.
Chef Tom Capretta, an assistant professor at Tri-C, and The First Tee's Brian McFarland recently visited the WKYC/Channel 3 studios to talk about the event. The Plain Dealer also published a story on the fundraiser.
March 15, 2019
John Horton, 216-987-4281 john.horton@tri-c.edu