Tri-C Hosts 42nd Annual Dr. King Celebration on Jan. 20
Remembrance is longest-running MLK event in Cleveland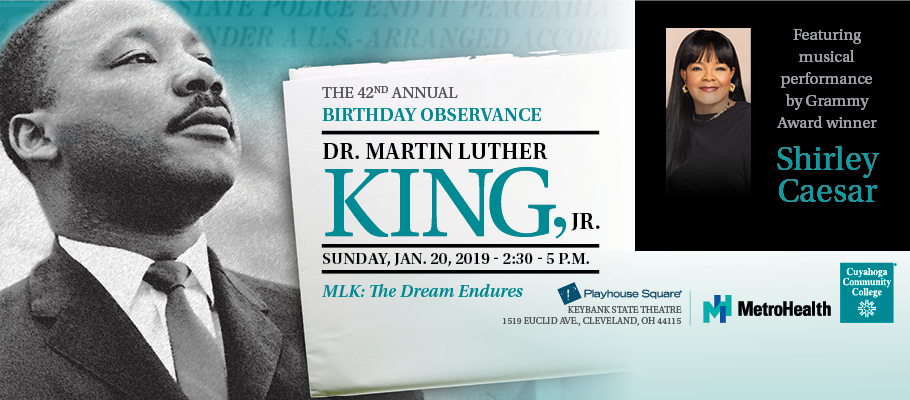 Cuyahoga Community College (Tri-C®) will host its 42nd annual birthday observance of Dr. Martin Luther King Jr. from 2:30-5 p.m. Sunday, Jan. 20, at the KeyBank State Theatre at Playhouse Square.
The remembrance will feature a performance by 11-time Grammy winner Shirley Caesar, known as the First Lady of Gospel Music, as well as scholarship presentations and student speeches honoring Dr. King.
The Tri-C celebration is the longest-running MLK event hosted in Cleveland. The tradition began in 1977, six years before the federal government designated a day to honor the slain civil rights leader. 
"We gather every year at this time to honor Dr. King's vision of civil rights and racial harmony," Tri-C President Alex Johnson said. "His words resonate over the decades, and the dream he shared continues to serve as an inspiration for our future."
An audience approaching 3,200 people is expected at Sunday's program, which will fill the historic downtown theater. All available tickets for the observance have been distributed.
Tiffani Tucker, who anchors weeknight newscasts at Cleveland 19 News, will serve as emcee of the event. The Emmy-nominated journalist also serves the community through her work with groups such as Achievement Centers for Children and the American Heart Association.
The KeyBank State Theatre is located at 1519 Euclid Ave. in Cleveland.
January 14, 2019
John Horton, 216-987-4281 john.horton@tri-c.edu