Tri-C Hosting Campus Visits on Presidents Day
Informational sessions for prospective students offered at five locations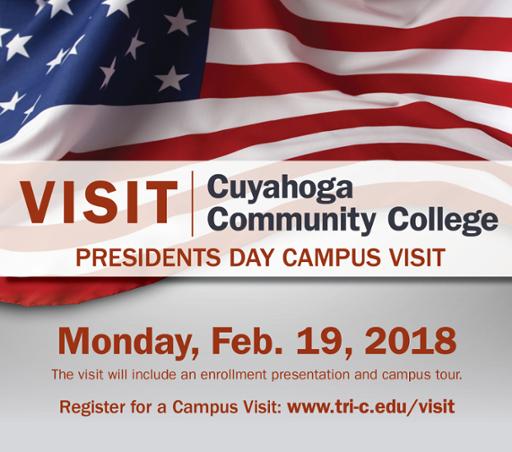 Cuyahoga Community College (Tri-C®) will host a visitation day for prospective students on Presidents Day — Monday, Feb.  19 — at its four campuses and the Brunswick University Center.
The day provides an opportunity to discuss academic programs with faculty and counselors; learn more about enrollment, financial aid and scholarships; discover the variety of student services available; and explore the buildings.
Registration is requested for the program, which includes an informational meeting and campus and classroom tours. Times vary by location and are as follows:
Brunswick University Center, 3605 Center Road in Brunswick: 10 a.m. and 2 p.m.
Eastern Campus, 4250 Richmond Road in Highland Hills: 11 a.m.
Metropolitan Campus, 2900 Community College Ave. in Cleveland: noon and 1 p.m.
Western Campus, 11000 Pleasant Valley Road in Parma: 10 a.m. and 2 p.m.
Westshore Campus, 31001 Clemens Road in Westlake: 10 a.m. and 2 p.m.
This free event is open to the public with free parking available at all sites. For more information or to register, visit the College's website or call 216-987-6000.
February 01, 2018
John Horton, 216-987-4281 john.horton@tri-c.edu