Tri-C Hospitality Students Host 'From Earth to Table' Virtual Cooking Class
Register now for the April 22 Earth Day event to cook with Cleveland's next top chefs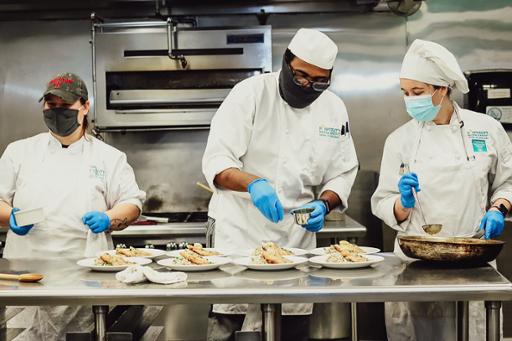 Celebrate Earth Day by cooking a locally focused farm-to-table dinner through a virtual class organized by Cuyahoga Community College (Tri-C®) culinary and event planning students. 
The online event will take place from 6-7:30 p.m. Thursday, April 22. Work along with students as they prepare an appetizer and entrée that pair perfectly with wine varietals selected by the event planning and banquet management classes. 
Cost is $20, which will go toward a scholarship fund benefiting students at Tri-C's Hospitality Management Center of Excellence. The registration deadline is April 19. 
Visit virtualwinedinnercookingclass.eventbrite.com to sign up for the class. Participants will receive an email with an ingredient list so they can purchase supplies in advance. A link to connect to the From Earth to Table livestream will also be sent. 
The planned menu, which participants will prepare during the event, is as follows:
Appetizer: Arugula and strawberry salad with a vinaigrette made from lemons and honey, plus bruschetta with fig and goat cheese. (The suggested wine is a dry pinot grigio with a crisp, fruity finish.)
Entrée: Chicken piccata with white wine caper sauce served with asparagus, spring peas and farro risotto. (The suggested wine is a medium-bodied chardonnay with buttery notes.) 
A dessert recipe for strawberry rhubarb crostata will also be provided to participants. Preparation of the treat, however, will not be demoed during the class. 
The selected dishes feature many ingredients grown locally and available at farmer's markets. The recommended wines can be purchased from Northeast Ohio's award-winning vineyards. 
In recognition of Earth Day, students leading the class will highlight ways to build sustainability into meal planning and preparation. 
Email nicole.meadows@tri-c.edu for more information on the cooking class.
April 01, 2021
John Horton, 216-987-4281 john.horton@tri-c.edu