Tri-C Honored with 2019 Higher Education Excellence in Diversity Award
College is one of 93 recognized by Insight Into Diversity magazine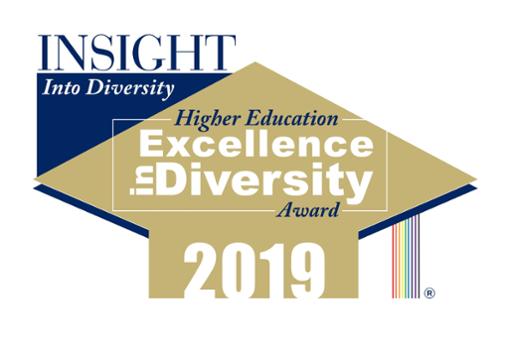 Cuyahoga Community College (Tri-C®) today received a 2019 Higher Education Excellence in Diversity (HEED) Award from INSIGHT Into Diversity magazine, the oldest and largest diversity-focused publication in higher education.
The national honor recognizes U.S. colleges and universities that demonstrate an outstanding commitment to diversity and inclusion. This is the sixth consecutive year Tri-C has been named a HEED Award recipient.
In selecting Tri-C for the honor, INSIGHT Into Diversity noted recruitment and retention initiatives by the College that offered underrepresented populations opportunities to achieve.
"Working toward inclusive excellence is a priority at Tri-C," said Magda Gomez, the College's director of diversity and inclusion. "Every employee serves as an 'Access Champion' for students, providing support and encouragement to help them reach their goals."
The November 2019 issue of INSIGHT Into Diversity will feature Tri-C as one of this year's 93 award recipients. Four are from Ohio. Tri-C is the only community college in the state to be honored.
The HEED Award process consists of a comprehensive application examining various aspects of campus diversity and inclusion, from leadership support through the recruitment and retention of students and employees.
"Our standards are high, and we look for institutions where diversity and inclusion are woven into the work being done every day across their campus," said Lenore Pearlstein, publisher of INSIGHT Into Diversity magazine.
For more information about the 2019 HEED Award, visit insightintodiversity.com.
September 18, 2019
John Horton, 216-987-4281 john.horton@tri-c.edu