Tri-C Honored for Work with Young Adults Who Aged Out of Foster Care
Cuyahoga County agency selects College for a 2018 Community Partner Award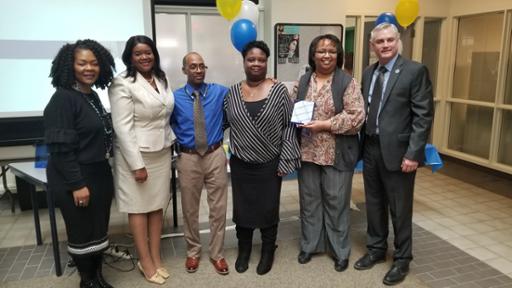 Cuyahoga Community College (Tri-C®) received a Community Partner Award from the Cuyahoga County Division of Children and Family Services for helping young adults who aged out of foster care gain academic degrees and workforce training.
The award nomination — submitted by Danielle Green-Welch, the Emancipation Unit supervisor with the county agency — called Tri-C's involvement invaluable.
"As our partners, they have worked tirelessly to help youth overcome barriers to returning and remaining in school," Green-Welch wrote. "This has made a tremendous impact on the educational success of our youth."
Tri-C's JaNice Marshall, associate vice president of access and community engagement, accepted the award for the College. The county agency's awards ceremony took place Tuesday, March 13.
March 14, 2018
John Horton, 216-987-4281 john.horton@tri-c.edu