Tri-C Hispanic Scholarship Focus: Jose Colon Nogueras
First responder overcame language barrier to achieve goals at the College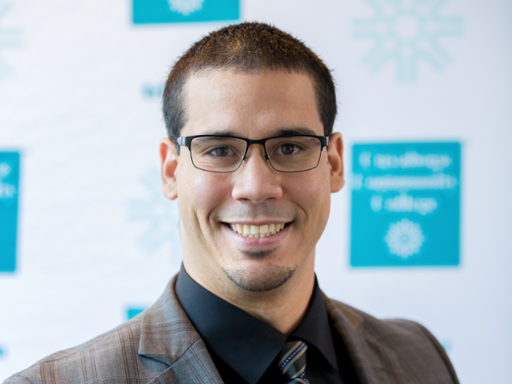 Cuyahoga Community College (Tri-C®) recently celebrated the academic achievements of more than 100 Hispanic students during a scholarship luncheon. More than $80,000 in scholarships were awarded at the event.
Several scholarship recipients — including Jose Colon Nogueras of Cleveland — spoke at the luncheon to share their stories. He is a sophomore studying to be a first responder.
Here is an edited version of his speech.
I am originally from the small but beautiful town of Juana Diaz, Puerto Rico. Although the external beauty of my town was like a postcard, the lifestyle was ugly and dangerous. I grew up surrounded by drugs, violence and poverty. Every day was a struggle just to get something to eat.
At the age of 18, I felt a strong desire to build a better life for myself and to go to college. I could not see that happening for me in Puerto Rico. So on June 27 of 2010, I called my brother, who was already living in Cleveland.
"Things are rough here," I told him. "What's your input in me leaving home?"
He said, "The doors of my house will always be open for you." That night, I sold my biggest possession — an old 1998 Toyota Corolla — and with tears in my eyes bought a one-way plane ticket to what is now my new home: Cleveland, Ohio.
About a year after living in Cleveland, I met the love of my life, Lynnet Figueroa, and we were married a year later. Today we have two young, beautiful children.
After a few years of marriage, my wife and I had a serious discussion about each of our educational goals. We committed our goals to paper and together we divided our house chores and children's responsibilities to make time for school and studying.
My short-term goal was to become a firefighter/paramedic. I selected Tri-C because of the kindness and support I received from the beginning — when I enrolled in the EMT program — to now as I finish the paramedic program.
I say this because language was always one of my biggest challenges in class. However, the effort that I put in to learn never went unnoticed. When I got accepted to the Fire Academy, they were very honest with me.
One of my instructors told me that I was a smart guy and that regardless of my language barrier, he was going to help me in every way he could so I could obtain my degree.
Those words coming from a complete stranger impacted my life.
Tri-C has not only been a college for me. Tri-C instructors and staff have been motivators, counselors, developers, cheerleaders, and more. There were moments in my life when I thought I was not going to be successful in college and they lifted me up and helped me get through it.
I am proud to share that although I was working full time and filled with family duties, I was able to accomplish my short-term goal of completing Tri-C's EMT program as well as the Fire Academy. I will finish the paramedic program in December.
I am also currently employed as an EMT with Donald Martens and Sons Ambulance Service. My next goal is to take the City of Cleveland exam for firefighter and hopefully become a full time firefighter. 
Every time I feel like I can't do something, I look back and remember where I came from and where I am now.  And I remember that with goals, hard work, the right attitude and support, I can be successful not only in my education but also in life as a role model for my children and provider for my family.
July 30, 2019
John Horton, 216-987-4281 john.horton@tri-c.edu