Tri-C Hispanic Scholarship Focus: Emma Macias
Nursing student pushes herself to honor sacrifices made by her parents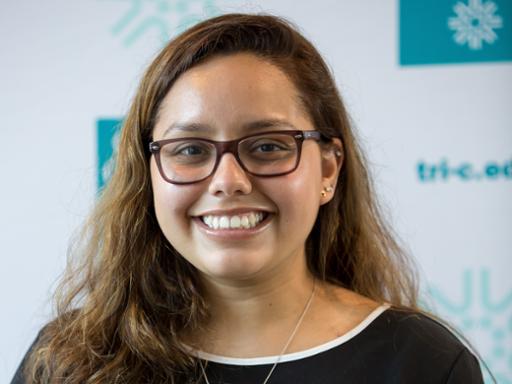 Cuyahoga Community College (Tri-C®) recently celebrated the academic achievements of more than 100 Hispanic students during a scholarship luncheon. More than $80,000 in scholarships were awarded at the event.
Several scholarship recipients — including Emma Macias of Painesville — spoke at the luncheon to share their stories. Macias is a sophomore studying nursing at Tri-C.
Here is an edited version of her speech.
I was born in Leon, Mexico. When I was around 6 years old, my parents moved our entire family to the United States for better educational and career opportunities. I basically grew up in Ohio and — over time — discovered that my parents were right about opportunity in America if you are willing to do your part and go for it.
Being the first in my family to attend college, I had to rely on many others to help me in navigating the college process — which was somewhat intimidating. I selected Tri-C because of its affordability and because Tri-C was interested in me playing for its softball team.
Being on the team made some of the most memorable moments of my life. I got to meet great new people who today are close friends. I got to travel to different states, see different sites and eat different foods. I was playing a game I loved with coaches that helped me improve my skills and people that meant a lot to me.
But I always made it a point to remember why I was at college to begin with and why my parents made such sacrifices to provide me with this opportunity. My grades qualified me for the all-academic conference, dean's list and highest GPA on the team. I took some harassment from the team on that last one, but I was grateful to have made my parents very proud.
When things get tough, I think about my parents and everything they gave up to come to America to work in a factory so that — hopefully — their daughters will never have to do so. When I get down academically or personally, I remind myself that if I were to give up, all the sacrifices my parents made would be for nothing.
That's when I get back up and wipe my tears because it is so important for me to let them know it was worth it.
July 30, 2019
John Horton, 216-987-4281 john.horton@tri-c.edu