Tri-C Grads Making Movie Magic in Cleveland
College training program leads to film crew jobs on two productions now shooting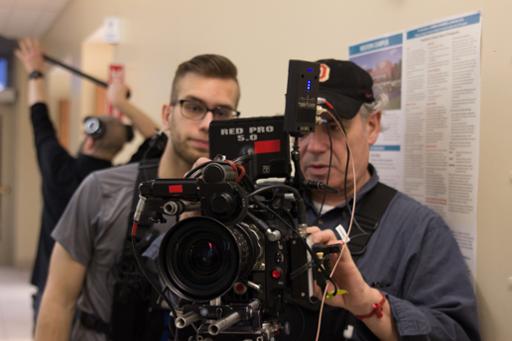 More than 20 members of film crews currently shooting a pair of movies in Cleveland gained their on-the-set skills through training programs at Cuyahoga Community College (Tri-C®).
The College helped connect program graduates with producers who needed workers for behind-the-scenes jobs on the two feature films. Production on both projects will continue into December.
The films are Cherry, a drama directed by Anthony and Joe Russo, and an untitled Warner Bros. project based on true events involving Fred Hampton, the outspoken leader of the Chicago Black Panther Party in the 1960s.
Nine recent Tri-C graduates who earned associate degrees in media arts and filmmaking landed jobs on the sets. Another hire emerged from the College's Recording Arts and Technology program.
All of the degree recipients also worked in the College's Student Production Office, which provides an apprenticeship environment that offers students media production experience.
The rest of the students earned certificates earlier this year from Tri-C's Film Crew Training Workshop. The College created the intensive course to build the workforce needed to support Northeast Ohio's fast-growing film industry.
The next workshop begins in January. Call 216-987-0252 for information.
"When producers come to Cleveland, they know they can turn to Tri-C to find the skilled workers they need on the set," said Lee Will, program manager of the Student Production Office.
Alumni on the sets include Phil Bernstein of Cleveland Heights; Perry Billett of Massillon; Brian Bowles of Westlake; Grant Campbell of Broadview Heights; Vanessa Capella of Copley; Stephanie Chrin of Westlake; William Clark of Hudson; Amber Cover of Lodi; Dillon Exner of North Olmsted; Chris Leszkowicz of Brecksville; Mariah Loeblein of Brunswick; Thomas Matheis of Brunswick; Shannon Metelko of Cleveland; Angelina Orrego of Cleveland; Jack Parker of Lakewood; Brandon Peck of Cleveland; Hunter Prunty of Grafton; Frank Revy of Cleveland; John Ahara Thomas of Cleveland; Robert Thomas of Euclid; and Mike Tuchek of Medina.
November 21, 2019
John Horton, 216-987-4281 john.horton@tri-c.edu