Tri-C Grad Susie Porter Shares Recipe for Better Living
Healthy eating program started by Porter earns praise in The Plain Dealer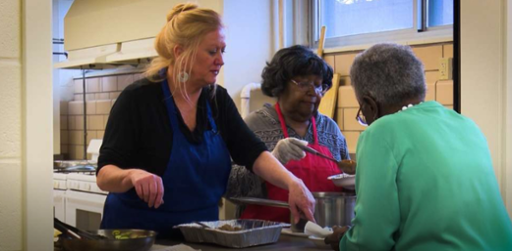 Susie Porter once fed appetites as owner of The Town Fryer restaurant. In 2010, she enrolled at Cuyahoga Community College (Tri-C®) to feed her desire to advance social justice issues and improve lives.
Now, in a delicious twist of fate, the 2012 Tri-C grad has blended both into a new project. Porter cooked up a concept called "Recipe Re-Mix" that aims to introduce people to healthy eating habits while educating them about nutrition.
The Plain Dealer's Michael K. McIntyre wrote about Porter's work in a story published in print and online Sunday, March 17. That same day, "Ideas Sunday" on WVIZ PBS television aired a segment on Porter.
Both reports noted the irony of Porter's new message given her previous gig, where she earned the title "Queen of the Deep Fryer" while battering Twinkies, Oreos and even candy canes before dropping them into hot oil.
The "new" version of Porter began forming at Tri-C. She enrolled at age 52 seeking a fresh start. Porter excelled academically, eventually earning acceptance into the College's Robert L. Lewis Academy of Scholars.
Her success and degree at Tri-C led to an invitation to attend Cornell University and its School of Industrial and Labor Relations. She graduated from Cornell in 2014.
She returned to Cleveland and began making a difference. She has been involved with projects such as "Peaceful Fruits" in Akron, which makes healthy snacks using fruit sourced from the Amazon and employs developmentally disabled people to do it.
In addition, she is involved with a group called Digital C, which is bringing the Internet to public housing through its "Connect the Unconnected" program.
"Recipe Re-Mix," meanwhile, fits into Porter's broader "Social Sprouts Ohio" initiative. She envisions that business making ingredients for healthy eating more accessible and affordable.
McIntyre applauded her efforts in his Sunday column. "She's showing all of us how you can remake your life in your 50s and come home with a passion to make lives better for others," he wrote.
March 19, 2019
John Horton, 216-987-4281 john.horton@tri-c.edu