Tri-C Grad Delivers Keynote at Youth Symposium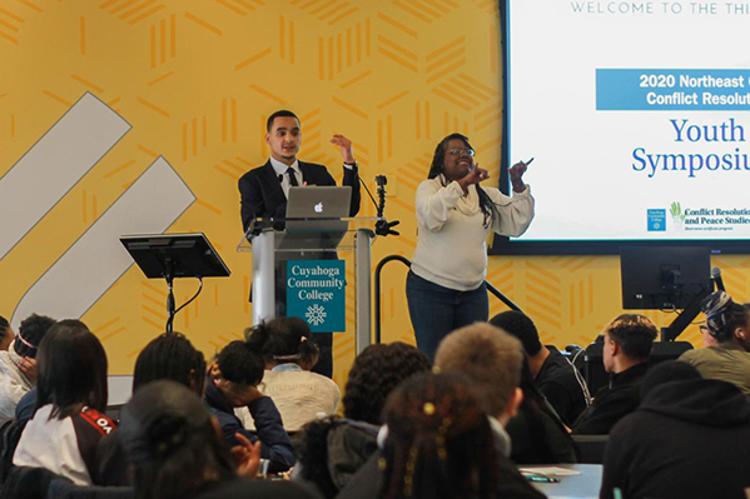 Learning never ends.

That was the prevailing message Cuyahoga Community College graduate Kevin Jones delivered to nearly 300 high school students attending the 2020 Northeast Ohio Conflict Resolution Youth Symposium, held at the College's Metropolitan Campus in February.

Jones spearheaded the event's keynote address — a panel that included fellow Tri-C graduate Winchell Grant and local entrepreneur Dawud Hamzah.

"I thought it would be more useful to do a panel and have each individual give their input based on their unique background," Jones told The Observer, Case Western Reserve University's student newspaper. "I am 25, Winchell is 29 and Dawud is 32. The idea behind that is we curated the keynote speakers so they would have a diversity of ages."

Jones graduated from Tri-C in May 2019 with an Associate of Arts degree and certificate in Conflict Resolution and Peace Studies, and continued his education at Case. 

Following the keynote panel, he led a series of breakout sessions in which he shared his story and reiterated the importance of lifelong education.

"The brain is made to consistently learn and absorb knowledge," Jones told The Observer. "Even when you are listening to a new album or new song, the subconscious mind will learn those lyrics."

Jones came to Tri-C after a serious auto accident in 2013 rendered him incapable of manual labor employment. During his time at Tri-C, he developed a passion for the humanities and community service and joined the Jack, Joseph and Morton Mandel Humanities Center and the College's Black American Council. He also earned a spot on the the 2019 All-Ohio Community College Academic Team.

Last spring, Jones said he planned to double major in economics and history at Case and hoped to attend law school after earning his bachelor's degree.
March 03, 2020
Erik Cassano, 216-987-3577 or erik.cassano@tri-c.edu