Tri-C Gallery West Opens New Exhibit
Show features three-dimensional works by artists Shannon Hines and Kortney Niewierski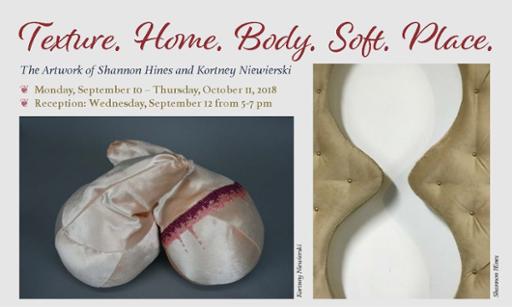 Cuyahoga Community College (Tri-C®) will showcase the three-dimensional works of two Northeast Ohio artists — Shannon Hines and Kortney Niewierski — during a monthlong exhibit at Western Campus.
The exhibit opens Sept. 10 and will be on view through Oct. 11 at Gallery West, located on the second floor of the campus library. Gallery hours are 8 a.m. to 8 p.m. Mondays through Thursdays and 9 a.m. to 2 p.m. Fridays and Saturdays.
An opening reception will be held 5-7 p.m. Wednesday, Sept. 12. The show is titled Texture. Home. Body. Soft. Place. The Artwork of Shannon Hines and Kortney Niewierski.
Hines has created sculptures and installations that have been shown throughout Northeast Ohio and Pennsylvania. She has an extensive work history as a fine arts consultant and private collection preparator.
Niewierski makes three-dimensional forms of intrigue and peculiarity through the use of bodily imagery, toy-like forms and tactile fabrics. Her work is intended to cause a moment of introspection within the viewer.
Both artists also teach at Kent State University, their alma mater.
Free parking is available at Western Campus, located at 11000 Pleasant Valley Road in Parma. For more information, call 216-987-5322 or visit www.tri-c.edu/gallerywest.
September 07, 2018
John Horton, 216-987-4281 john.horton@tri-c.edu