Tri-C Gallery East Exhibition Explores Social Justice
Works showcasing the power of art therapy on display Feb. 27-March 19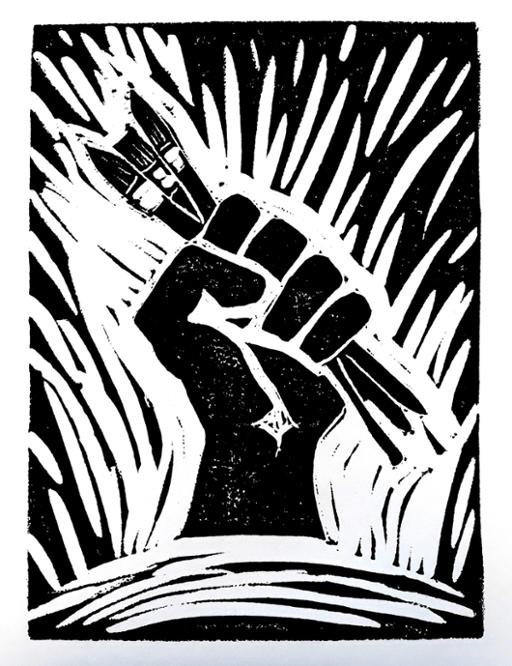 Using art to explore concepts of social justice is the focus of an exhibition on view Feb. 27-March 19 at the Eastern Campus of Cuyahoga Community College (Tri-C®).
The free exhibition — which features more than 100 pieces of artwork in various mediums — will take place at Gallery East in the Education Center. Gallery hours are 10:30 a.m. to 3:30 p.m. Mondays through Thursdays.
The 20th annual Art and Healing Exhibition is presented by Tri-C's Creative Arts and Art Therapy departments and Ursuline College's Counseling and Art Therapy department. The exhibit is titled "Art of Empowerment: Social Justice, Mental Health and the Arts."
The opening reception is 6-8:30 p.m. Thursday, Feb. 27. Julie Garreau will give a free lecture at 7 p.m. on her award-winning work with the Cheyenne River Youth Project at a Native American reservation in South Dakota.
On Friday, Feb. 28, the College will host an arts and healing workshop using shaped wood and papier-mache boxes to explore themes of social interaction, giving and kindness. The session, led by Barbara Trauger-Querry, runs 9 a.m. to 1 p.m. Cost to attend is $45.
Professionals can earn one continuing education credit for the Thursday lecture and four continuing education credits for the Friday workshop. To register, complete the form at www.myglobalarts.com/art.
For more information, contact Tri-C art therapy coordinator Mary Sender at 216-987-2475 or Pat Janosko at 440-646-8139.
Eastern Campus is located at 4250 Richmond Road in Highland Hills. Gallery East is in room 135 of the Education Center, which is best accessed from Robert Bishop Drive off of Harvard Road.
The exhibition is co-sponsored by the Buckeye Art Therapy Association.
February 13, 2020
John Horton, 216-987-4281 john.horton@tri-c.edu