Tri-C Foundation Presidential Scholarship Luncheon Raises $1.3 Million
Former U.S. Secretary of Defense Robert M. Gates headlined Nov. 1 event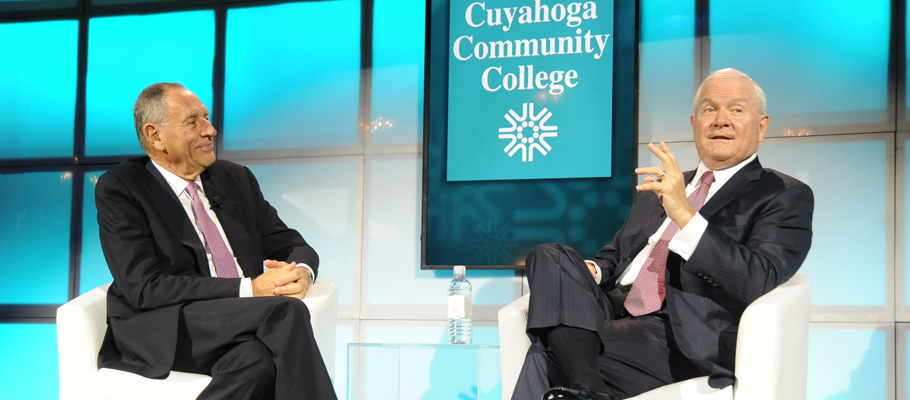 Former U.S. Secretary of Defense Robert M. Gates added to his legacy of leadership by helping the Cuyahoga Community College (Tri-C®) Foundation raise $1.3 million for scholarships.
The critically needed funds — the result of the Foundation's 2018 Presidential Scholarship Luncheon — will help Tri-C students with financial need pursue higher education and achieve their academic goals.
Gates served as keynote speaker at the luncheon, which took place Thursday, Nov. 1, at the Renaissance Cleveland Hotel on Public Square.
Dollars generated at the event create scholarships that turn students into graduates and dreams into success stories. Money raised at this year's luncheon will benefit students pursuing careers in health care, information technology and manufacturing.
Since its inception in 1992, the Foundation's Presidential Scholarship Luncheon has raised more than $19 million for Tri-C students.
"Every dollar represents an investment in the people of Northeast Ohio," said Trina Evans, chairperson of the Tri-C Foundation. "This is about providing the opportunity to achieve. Lives change from these scholarships and the generosity of Foundation donors."
KeyBank served as presenting sponsor of the sold-out luncheon, which seated more than 1,000. Overall, more than 150 donors received recognition during the event for their support of student success efforts.
Gates adds to the list of distinguished speakers to headline the luncheon, joining Presidents George W. Bush and Bill Clinton and diplomats such as Condoleezza Rice, Gen. Colin Powell and Madeleine Albright.
In nearly five decades of public service, Gates served eight U.S. presidents. His storied career culminated in 2011 with President Barack Obama awarding him the Presidential Medal of Freedom, the nation's highest civilian honor.
Gates joined the Central Intelligence Agency in 1966 and spent nearly 27 years as an intelligence official. He became director of the CIA in 1991, becoming the only officer to rise from entry-level employee to the head of the agency.
He served as secretary of defense from 2006 to 2011 under Presidents Bush and Obama. He is the only secretary of defense in the nation's history asked to remain in office by a newly elected president.
Gates now serves as chancellor of William & Mary, his alma mater in Williamsburg, Virginia. He was president of Texas A&M University from 2002 to 2006.
He is also an author with three memoirs to his name, including a New York Times best-seller. His most recent book — A Passion for Leadership: Lessons on Change and Reform from Fifty Years of Public Service — was published in 2016.
Gates met with students in Tri-C's Jack, Joseph and Morton Mandel Scholars program before the luncheon to talk about leadership and achievement.
"Our Mandel Scholars are aspiring leaders who aim to make the impact of a Robert Gates," said Megan O'Bryan, president of the Cuyahoga Community College Foundation. "His inspiring words may help launch the career of another great public servant."
November 01, 2018
John Horton, 216-987-4281 john.horton@tri-c.edu