Tri-C Foundation Honors Rick Chiricosta for Distinguished Service
College advocate and leader receives 2019 Heath Oliver Distinguished Director Award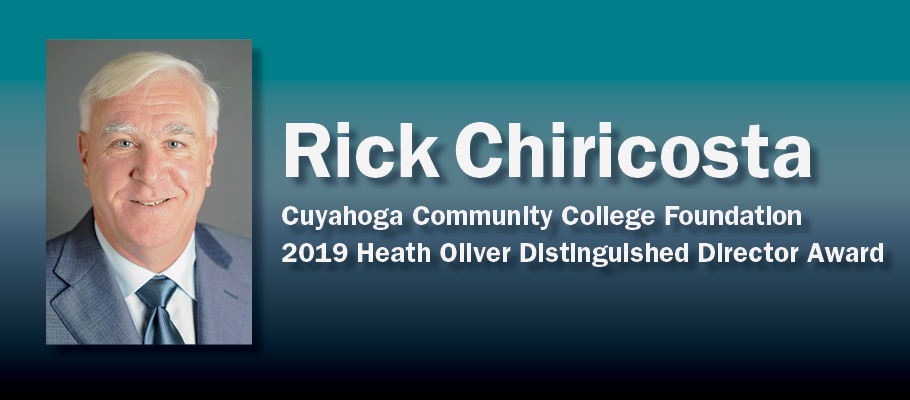 The Cuyahoga Community College Foundation Board of Directors awarded its 2019 Heath Oliver Distinguished Director Award to Rick Chiricosta in appreciation of his exemplary service to the College and its students for the past decade.
Chiricosta served as the Foundation's board chairperson from 2014 to 2017. Under his leadership, the Foundation grew its endowments by nearly 50% — from $42.5 million to $62.6 million — to benefit Tri-C and its students.
Additional roles with the board since joining in 2009 include seats on the Finance Committee (2009-2011) and Executive Committee (2012-present).
Chiricosta — who is chairman, president and CEO of Medical Mutual of Ohio — also helped establish the Medical Mutual Nursing and Health Careers Scholarship Fund through the Foundation.
The College awarded an Honorary Doctor of Humane Letters degree to Chiricosta in 2017 in recognition of his role as an advocate for education.
"Rick Chiricosta is an exemplary leader whose actions have solidified a foundation of success at Tri-C," said Megan O'Bryan, president of the Foundation. "His dedicated work embodies the mission of the Foundation and continues to make a difference for our students, the College and Northeast Ohio."
The Heath Oliver Distinguished Director Award was established in memory of longtime Foundation Board Director Heath Oliver, president of Bardons & Oliver and a valuable member of the Board from 1988 until his death in 2009. Under his leadership, scholarships for Tri-C students became a fundraising priority; the Foundation successfully launched its first major gifts campaign; and Presidential Scholarship Luncheons raised significant dollars to benefit students.
The Cuyahoga Community College Foundation, chartered in 1973, is a tax-exempt 501(c)(3) charitable organization with the mission to secure funding for scholarships and educational program development and enhancement for the College.
June 13, 2019
John Horton, 216-987-4281 john.horton@tri-c.edu