Tri-C Film Academy's "The Simple Path" Selected for Cleveland International Film Festival
Local debut of student film is one of six screenings at festivals across the United States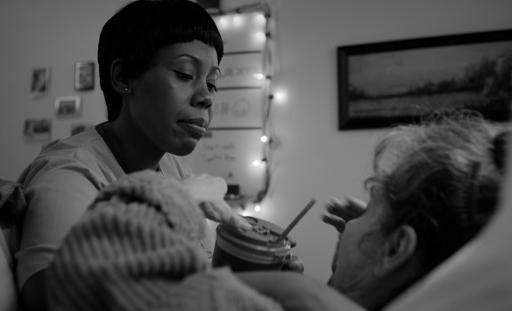 The Simple Path — a short film created by the Film Academy at Cuyahoga Community College (Tri-C®) — will be screened during the 44th Cleveland International Film Festival (CIFF).
The film will be shown at 9:35 p.m. Thursday, April 2, at Tower City Cinemas, located within Tower City Center at 230 W. Huron Road.
The Simple Path follows the decision-making of Nevaeh, an elder care nurse who struggles emotionally when one of her long-term patients loses the ability to support the costs of her care.
Though the 16-minute film's subject matter is distressing given the realistic challenges it addresses, the story finds balance in the random acts of kindness often provided to those in need.
In addition to inclusion in CIFF, The Simple Path has been part of five other film festivals across the country, including:
Flathead Lake International Cinemafest in Montana (Jan. 24-26)
San Diego Black Film Festival in California (Jan. 24-Feb. 2)
Maumee Film Festival in Ohio (March 6-7)
Clean Shorts Film Festival in Oklahoma (April 3-4)
Branson International Film Festival in Missouri (April 30-May 2)
The production was shot as part of a five-week intensive film crew training program at Tri-C. Students who worked on the set received a paycheck and film credit to build their resume and Internet Movie Database (IMDb) profile.
Charles Moore wrote and directed the film. James Madio and Lee Will served as producers. Filming of The Simple Path was made possible in part through the generous support of the John P. Murphy Foundation through the Cuyahoga Community College Foundation.
CIFF tickets are $14 per screening for members and $16 for non-members. Sales open Friday, March 6, for members and a week later for the general public.
Tickets can be purchased online at clevelandfilm.org, by telephone at 1-877-304-FILM, at the Film Festival Box Office in the lobby of Tower City Cinemas or by mail using the Program Guide order form.
March 03, 2020
John Horton, 216-987-4281 john.horton@tri-c.edu