Tri-C Famous: Esther Kraft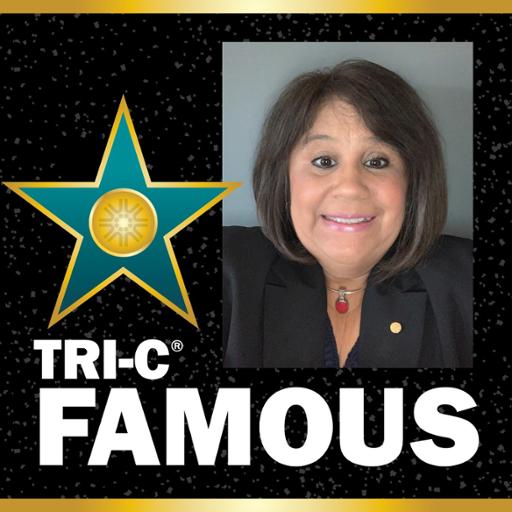 #TriCFamous is a bimonthly feature that introduces readers to the people who make the College work while providing a sneak peek into their lives off campus. 
Esther Kraft is the program manager for Tri-C's Hispanic Council. She and colleague Sylvia Royle form a small but mighty team providing advocacy and bilingual services for Hispanic students at the College. They also work with community organizations to connect Cleveland's Hispanic residents with educational opportunities. Learn more about Esther — including which notoriously enigmatic artist she considers her musical idol — in this week's Tri-C Famous. 
Tell us about one of your hobbies.
As a cat lover, one of my favorite hobbies is volunteering as a foster mother for Animal Rescue Friends in Columbia Station. My duties include temporarily housing and caring for small litters of kittens in my home. Some have been easy to care for, while others have been challenging due to a variety of health issues. The most common question I get from family and friends is, "How do you do it? I would get too attached!" My answer is that I look at the bigger picture: helping animals find homes. Seeing my foster kittens' adoption photos with their new families makes it all worthwhile. 
Who is your favorite performer?
My all-time favorite performer has been and will always be Prince. I still remember the day I bought Purple Rain and how much fun my friends and I had dancing together. We were amazed by his guitar playing, his music vibe, even his fashion. His records made us get up and celebrate life. No matter what was going on, it was like we were transported into instant happiness — if only for the length of one song. My only regret is never getting to experience a live concert. It's one of the reasons I make it a point to take my teenage daughter to see her favorite artists. 
What's your motto or philosophy on life?
My philosophy is a combination of my parents' guidance and my Catholic upbringing:
Love unconditionally, work hard at whatever you do, give back whenever you can, and show gratitude always. 
Want to be Tri-C Famous? Email jarrod.zickefoose@tri-c.edu for a chance to be featured (or to nominate someone else!)
November 24, 2020
Beth Cieslik, 216-987-4538 beth.cieslik@tri-c.edu