Tri-C Famous: Eric Kuentz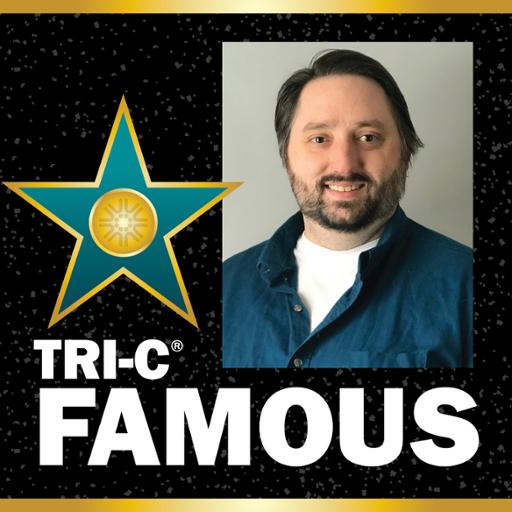 #TriCFamous is a bimonthly feature that introduces readers to the people who make the College work while providing a sneak peek into their lives off campus. 
Eric Kuentz is an integration technician in the Eastern Campus Learning Commons. He joined Tri-C's Media Services department in 2003, bringing several years of award-winning video production experience from his alma mater, the University of Mount Union. Today he designs, installs and maintains AV systems on campus. Learn more about Eric, including his advice for remaining positive during tough times, in this week's Tri-C Famous. 
What are your Top 3 favorite movies?
As a film student, I find there's something to learn from every movie — even the bad ones. But if I had to pick just three favorites right this minute …
Back to the Future: The first film I saw that made me realize the power of movies as communication tools. I still get lost in this one.
The Silence of the Lambs: Everything about this film is superb. 
It's a Wonderful Life: Always makes me cry at the end. 
What's your favorite book, and why?
Steven Pressfield's The War of Art lives on my desk. It's a quick read filled with advice about the creative process that also applies to life in general. I can pick it up, read a chapter (generally a page or less) and feel inspired. 
What's your personal motto or philosophy on life?
A few years back, during a major bout of depression, a friend dragged me to see Disney's Meet the Robinsons. It's about a young orphan inventor who constantly fails yet never gives up and his roommate, who holds on to all his negative feelings. The movie isn't great, but it does have a message: Keep moving forward. For me, depression is all about holding on to negativity. The movie helped me see that when I focus on the past, I miss out on the joy of the present and the possibility of the future. While I've found effective treatment for my depression, I continue to remind myself to enjoy the present moment and keep moving forward. 
Want to be Tri-C Famous? Email jarrod.zickefoose@tri-c.edu for a chance to be featured (or to nominate someone else!)
February 23, 2021
John Horton, 216-987-4281 john.horton@tri-c.edu