Tri-C Famous: Emma Tidball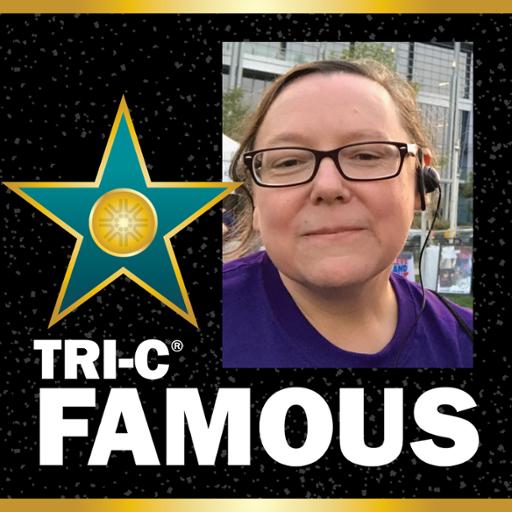 Emma Tidball works in the office of Karen Miller, Tri-C's provost and executive vice president of Access, Learning and Success. She's spent more than a decade supporting College leadership at the District office in downtown Cleveland. With a juris doctorate and more than one master's degree to her name, there's much more to this administrative powerhouse than meets the eye. Learn about Emma — aka "Human Google" — in this week's Tri-C Famous! 
Tell us about your first "real" job.
I worked the reference desk at Kent State's main library while earning my master's degree in library science. This was before Google, so I never knew what questions I might get on any given day. One time, a student on his way to an athletic banquet came looking for someone to help him tie his necktie. Another time, I got a call from a bartender asking me to confirm the colors of the Mystery Machine from Scooby-Doo. (There was a round of drinks riding on the correct answer). 
What's something most people don't know about you?
Continuing with the jobs theme, two summers working at the local drive-in in my hometown of Bucyrus taught me that I am the absolute worst carhop in history. There is a special kind of embarrassment that comes along with accidentally dumping two milkshakes into the front seat of someone's Camaro on a hot summer's day. 
What's your favorite thing about working at Tri-C?
For me, it's knowing that we have such an amazing team to support our faculty, students and community. Over my 10 years at the College, I've seen individuals from all corners of the institution work together to create and implement some really innovative and complex initiatives. Even when the pandemic forced us to move everything online, we never lost sight of our commitment to students and the community. It's really the people that make Tri-C a great place to work. 
Want to be Tri-C Famous? Email jarrod.zickefoose@tri-c.edu for a chance to be featured (or to nominate someone else!)
January 12, 2021
Beth Cieslik, 216-987-4538 beth.cieslik@tri-c.edu