Tri-C Famous: Christine Hickey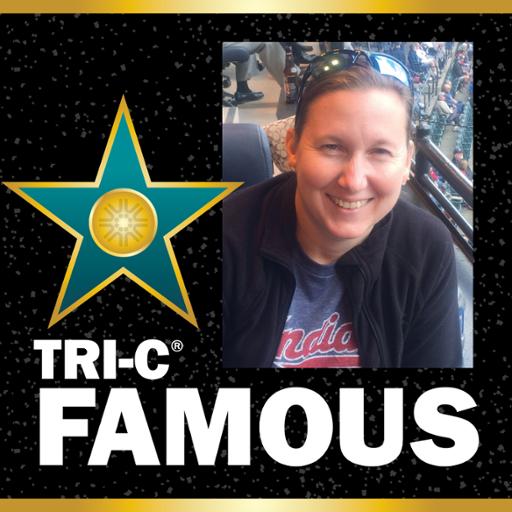 #TriCFamous is a bimonthly feature that introduces readers to the people who make the College work while providing a sneak peek into their lives off campus. 
Christine Hickey joined Tri-C 22 years ago as a part-time assistant in the College's Video Production department. Today, as manager of Television and Video Services, she leads an AV crew that produces virtual events College-wide. Christine describes herself as a happy person with the ability to find humor in most situations, even at her own expense. Learn about her most memorable bike ride — and the hobbies that she picked up during quarantine — below. 
1. What is your motto or philosophy on life?
Treat others how you would like to be treated. I think it's important to be kind, accepting, respectful and helpful. Life isn't easy, and we're all in this together. 
2. Tell us about your hobbies.
I've actually picked up two new hobbies in the last few months. One afternoon I pulled out my teenager's sewing machine and decided to learn how to use it. I read the manual and went online without much luck. So, I FaceTimed my mom in California, propping up my phone so she could see the machine. She coached me for an hour while I made my first face mask. It wasn't perfect, but I was on my way. I've been making masks for my friends and family ever since.

My other new hobby is stained glass. I've been wanting to take a class for years but never had the time. I love all the colors and textures, and working with my hands. I've started making Christmas gifts, but I have to remember that I'm new and need to start small. 
The best thing about both of these activities is that I'm not on the computer! 
3. Tell us a funny story from your youth.
I wouldn't call it my youth, but I was younger (in my mid 30s).
My husband, Mike, is very active and athletic. I'm not. I try, but it just doesn't come naturally. One day he suggested we go to a mountain bike "demo day." I agreed, because he said the trail would be easy. We both picked out bikes to try, and as we started down the narrow, downhill trail, I rode the brakes and took it slow. Turning the corner, we came to a much steeper downhill section. I decided it would be better for me to walk down. But when I saw another steep hill up ahead, I was determined to make it to the top. I pedaled as fast as I could, and it went well … at first. After coming to a sudden stop, I began rolling backwards. I ended up walking up that hill, too.
Anyway, over the course of this trail I fell into several bushes, walked through a creek and ran into a tree. Mike later admitted that it wasn't a beginner trail and that the bikes we were riding cost a few thousand dollars each. Yikes! 
Want to be Tri-C Famous? Email jarrod.zickefoose@tri-c.edu for a chance to be featured (or to nominate someone else!)
October 13, 2020
Beth Cieslik, 216-987-4538 beth.cieslik@tri-c.edu