Tri-C Famous: Becky Wiggins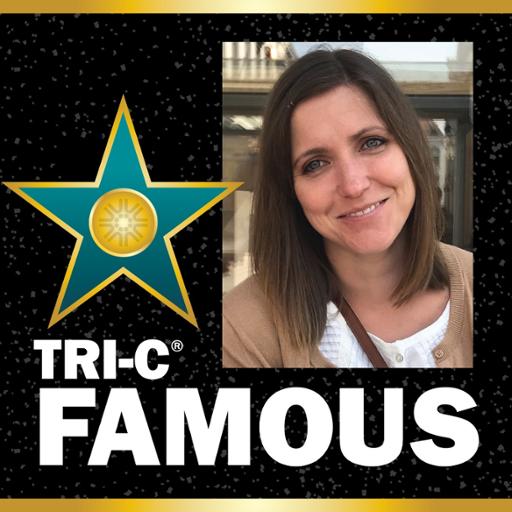 Becky Wiggins manages Tri-C's new online Associate of Arts program. In her eight years at the College, she has worked for Finance and Business Services and the Eastern Campus President's Office, as well as in curriculum development. A calm and orderly person on the outside, Becky's taste for adventure might come as a surprise to some of her coworkers. Read on to learn about the trip that whet her appetite for exploration — both with and without her canine companion. 
What's the most daring thing you've ever done?
I had a lot of anxiety growing up, with a tendency to be shy and stay close to home. But as a college junior, I applied for a study-abroad experience in the remote country of Bhutan, a small Buddhist kingdom sandwiched between India and the Tibetan Autonomous Region in the Himalayas. Its residents are mostly farmers, and very few areas had electricity at the time. Bhutan's rugged mountain terrain meant the trip would challenge me both physically and mentally. In spring 2006, I embarked upon a journey that would inspire a lifelong love of travel. I found that being so far out of my comfort zone allowed me to see both the world and myself from a different perspective. I've been traveling to different parts of the world to recapture that feeling ever since. 
If you could travel anywhere in the world right now, where would you go? What would you do?
One place I've always wanted to visit is Mongolia. In my graduate studies on Tibetan religion, I learned that the Tibetans brought Buddhism into Mongolia in the 13th I'd like to visit some of the monasteries and important religious sites in the capital city of Ulaanbaatar. Mongolians also have a vibrant counterculture, so I'd like to spend some time in the city mingling and trying new foods. After that, I'd go out into the steppes to experience the Mongolian countryside. I'd love to stay in a yurt and ride a camel, go hiking and kayaking, and try some of the famous kumis (fermented mare's milk). 
Tell us about your pet(s).
My dog, Rolo, is a 9-year-old mutt. My husband and I take him everywhere we can. He loves to hike and sit on patios to get pets from strangers. He also loves to hunt small animals, so we often find little "surprises" in the yard. 
Want to be Tri-C Famous? Email jarrod.zickefoose@tri-c.edu for a chance to be featured (or to nominate someone else!)
August 11, 2020
Beth Cieslik, 216-987-4538 beth-cieslik@tri-c.edu