Tri-C Famous: Anthony Moujaes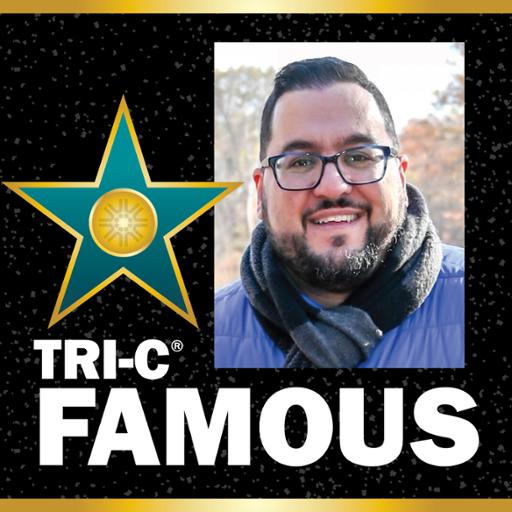 #TriCFamous is a bimonthly feature that introduces readers to the people who make the College work while providing a sneak peek into their lives off campus.
Anthony Moujaes joined Tri-C in November 2021 as public relations manager in the Integrated Communications department. He previously oversaw communications and marketing for several local organizations including Menlo Park Academy, Adoption Network Cleveland and the United Church of Christ. Anthony began his career as a reporter with the Sandusky Register, eventually becoming the second-youngest editor in the newspaper's history. Learn more about one of the College's newest employees in this week's Tri-C Famous!
1. What's your favorite book, and why?
Early in my career, I read All the President's Men by Carl Bernstein and Bob Woodward, the two journalists who investigated the Watergate break-in and subsequent political scandal. As a political science major, I wanted to learn more about the events; as a journalist, I wanted to follow the chronology of the investigative reporting. The book is equal parts true crime and politics, and it underscores the importance of a free press' watchdog role in a democracy.

2. What's your motto or philosophy on life?
I have two guiding mantras that fuel my energy. The first is "How you do anything is how you do everything." I came across the phrase about four years ago. It keeps me aware when a bad habit creeps in and reminds me to push through any resistance that comes my way. The second is "First time. Every time." This one keeps me focused and helps me act right away, especially with the smaller to-dos in my life that can pile up and cause stress.

3. Tell us your best "celebrity encounter" story.
I briefly met former President Jimmy Carter in 2016 during a summit at his presidential library in Atlanta. He was in his early 90s at the time, but he was incredibly sharp, thoughtful and personable in his dialogue. As he exited the room, he shook people's hands as he passed by. When he got to me, I extended my hand and struggled to form a coherent sentence: "Hey … Jimmy." He continued on, and I froze, staring at my own hand. It took a minute for me to realize that I had just called a former U.S. President and Nobel Prize-winning humanitarian by his first name. It's a story I'll never forget.

Want to be Tri-C Famous? Email jarrod.zickefoose@tri-c.edu for a chance to be featured (or to nominate someone else!)
December 07, 2021
Beth Cieslik, 216-987-4538 beth.cieslik@tri-c.edu