Tri-C Fall Commencement Celebrates Nearly 1,800 Student Success Stories
Graduating class is third largest to cross the stage at annual ceremony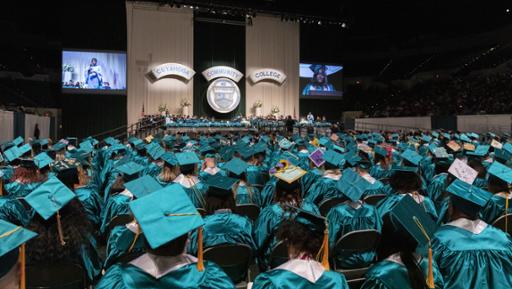 Cuyahoga Community College (Tri-C®) will celebrate the academic achievements of nearly 1,800 petitioning graduates during Fall Commencement at 6 p.m. Tuesday, Dec. 17.
The College has been asked to confer 1,795 associate degrees and certificates of completion at the graduation ceremony. The total reflects the ongoing impact of College programs and initiatives designed to keep students on the path to graduation.
This is the third largest fall commencement class in Tri-C's history.
"These degrees and certificates serve as passports to careers in the 21st century economy," said Alex Johnson, president of the College. "The bright futures of our graduates illustrate the life-changing power of higher education, hard work and determination."
The student commencement speaker will be Kasandra Hernandez, who will graduate with an Associate of Applied Science degree and professional certificates in landscape horticulture and landscape contracting. The 24-year-old from Green leaves the College with a flawless 4.0 GPA.
Her classroom success earned her scholarships from Tri-C as well as national and state groups. Following graduation, she intends to continue her studies at The Ohio State University to pursue a bachelor's degree in sustainable plant systems with an emphasis in horticulture.
Classmates selected Hernandez to share her story as student speaker at the ceremony. To read other graduate success stories from the College's 2019 Fall Commencement class, visit www.tri-c.edu/commencement/graduate-stories.html.
The College will also award Honorary Doctor of Humane Letters degrees to Robert L. Lewis, Robert P. Madison and Sam Petros during the ceremony to recognize their commitment to the community and College.
Lewis was instrumental in founding Tri-C and remained involved with the institution until his death in 2005. Over the years, he served as a College trustee and chairman; taught courses; created the Scholar-in-Residence program; and helped launch the Honors Program.
Madison left an indelible imprint on his hometown Cleveland skyline through his world-renowned architectural firm, Robert P. Madison International. He was the first African American registered architect in Ohio and amassed numerous honors over a career spanning six decades.
Petros established Petros Homes in 1985 and embarked on a career building and creating safe communities across Northeast Ohio.  He is chief executive officer of Petro Homes and president and sole shareholder of Petros Development Group.
This year's commencement ceremony will take place at Cleveland State University's Wolstein Center, located at 2000 Prospect Ave. in Cleveland.
December 16, 2019
John Horton, 216-987-4281 john.horton@tri-c.edu