Tri-C Fall Commencement Celebrates 1,800+ Student Success Stories
Graduating class is second largest to cross the stage at annual ceremony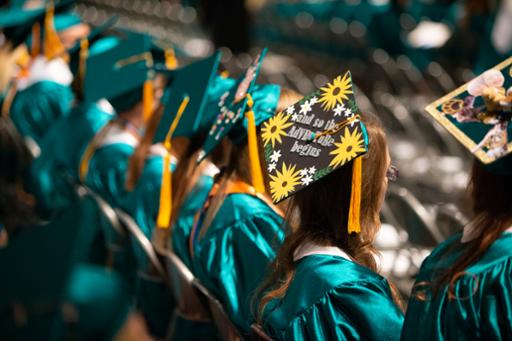 Cuyahoga Community College (Tri-C®) will celebrate the academic achievements of more than 1,800 petitioning graduates during Fall Commencement at 6 p.m. Tuesday, Dec. 18.
The College has been asked to confer 1,852 associate degrees and certificates of completion at the graduation ceremony, making it the second-largest fall commencement class in Tri-C's history.
The total reflects the success of College programs and initiatives designed to keep students on the path to graduation.
"Every degree and certificate reflects a determination to build a better future," said Alex Johnson, president of the College. "From what they have shown, I know that our newest graduates will be successful as they venture out into careers or to continue their education."
The College will also award Honorary Doctor of Humane Letters degrees to Jules Belkin, Paul Clark and John E. Skory during the ceremony to recognize their commitment to the community and College.
Belkin co-founded Belkin Productions in 1966 and staged thousands of concerts over the decades while connecting communities through music. The College recently renamed a theater after Belkin and his wife, Fran, in recognition of their strong support of the arts at Tri-C.
Clark has been involved in the financial services industry for 43 years and now serves as regional president of PNC Bank, Cleveland. He is active in a number of civic and business organizations, including the Cuyahoga Community College Foundation.
Skory, a Tri-C grad, ascended to president of The Illuminating Company after beginning his career with the utility as a meter reader. He serves on the boards of a number of community service organizations, including the Tri-C Foundation.
The student commencement speaker will be Charulatha Vijayakumar, who turned two years of online classes and overnight study sessions into an Associate of Applied Business degree with a focus on international business. She is graduating with a flawless 4.0 GPA.
The 28-year-old said the flexibility of e-learning allowed her to pursue a degree from Tri-C even after her husband's job took the family to Fort Wayne, Indiana, earlier this year.
Classmates selected Vijayakumar to serve as student speaker at the ceremony and share her story. To read other graduate success stories from the College's 2018 Fall Commencement class, visit www.tri-c.edu/commencement/graduate-stories.html.
This year's commencement ceremony will be held at Cleveland State University's Wolstein Center, located at 2000 Prospect Ave. in Cleveland.
December 17, 2018
John Horton, 216-987-4281 john.horton@tri-c.edu