Tri-C Distributes Nearly 150 Computers to Students
Tri-C Foundation works with PCs for People to help students overcome obstacles to online learning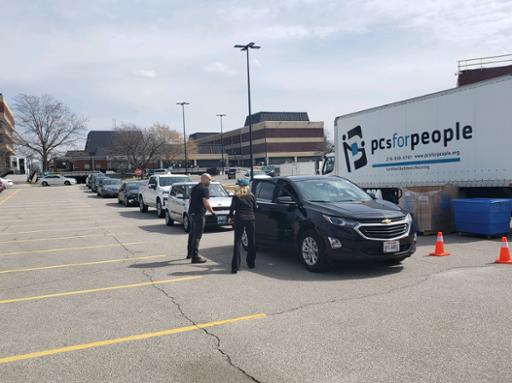 Cuyahoga Community College (Tri-C®) distributed nearly 150 computers to students this week to help them continue their studies as Tri-C shifts to online instruction following the COVID-19 outbreak.
The computers were handed out during a drive-up process at Metropolitan Campus in Cleveland and Western Campus in Parma. Students pre-registered for the computers and had to meet income guidelines to qualify.
The Cuyahoga Community College Foundation covered the cost of the computers. The Foundation launched the project with PCs for People to address emerging needs from the response to COVID-19.
Many community college students lack home access to a computer and internet, creating challenges as courses move online.
"We're working to remove technological obstacles students may face," said Megan O'Bryan, president of the Foundation. "COVID-19 has certainly forced changes in our day-to-day lives right now, but we don't want to see it disrupt progress toward graduation."
Donations to help the Foundation provide students technology and other assistance can be made at tri-c.edu/give.
An additional computer distribution is planned, though dates have not been set. Students can apply through PCs for People by emailing ohio@pcsforpeople.org and providing contact information and a Tri-C student number.
To be eligible, a student must live in a household with an income below the 200% poverty level or be enrolled in an income-based government assistance program. Federal Pell Grant recipients would qualify.
PCs for People is a nonprofit dedicated to getting computers and affordable internet service into the homes of low-income individuals. Visit pcsforpeople.org to learn more about the organization.
March 27, 2020
John Horton, 216-987-4281 john.horton@tri-c.edu