Tri-C Distributes Care Kits to 'Stomp Out COVID-19'
Bags include supplies to help students, employees safely return to campus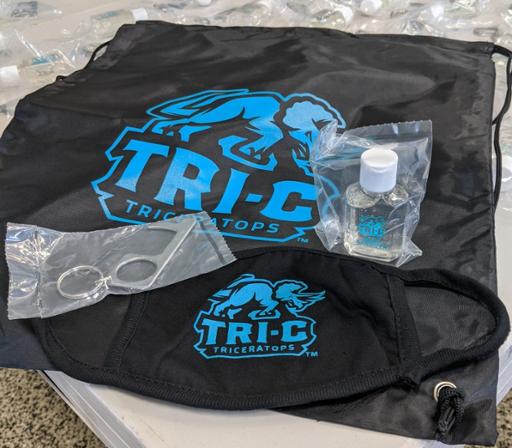 Cuyahoga Community College (Tri-C®) this week began distributing care kits to students and employees to help them safely return to campus in the midst of the COVID-19 outbreak. 
The "Stomp Out COVID-19" drawstring bags include a face mask featuring the College's triceratops mascot, Stomp, as well as a bottle of hand sanitizer, a contactless key and daily health assessment cards. 
The 20,000 care kits will primarily be distributed from Welcome Stations at Tri-C campuses and other sites. The College used funds from the federal Coronavirus Aid, Relief and Economic Security (CARES) Act to cover the cost of the bags. 
"Tri-C is working to ensure that the campus community has the health and safety tools needed for a successful fall semester," said Karen Miller, the College's provost. "If we all take the necessary precautions, we can reduce the risk of coronavirus spread." 
Tri-C students returned to campus on a limited basis this fall, with approximately 30% of classes taught on-site. Most of those courses involve hands-on training that require face-to-face instruction and access to specialized equipment. 
The remainder of Tri-C classes are online during fall semester to limit potential exposure to the coronavirus. The College took similar steps during spring and summer. 
The care kits build on COVID-19 precautions taken by the College at its sites. Health and safety measures include the installation of hand sanitizing stations, plexiglass barriers and social distance signage, as well as increased cleaning. 
Tri-C's COVID-19 Compliance Team developed the plan for the care kits. The College worked with HALO Branded Solutions on the project.
September 17, 2020
John Horton, 216-987-4281 john.horton@tri-c.edu