Tri-C, Cuyahoga County Partner on Countywide Police Training Course
$250,000 from county will fund virtual and scenario-based training sessions for 2,500 officers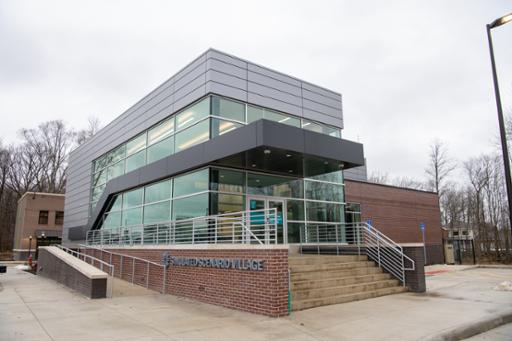 Cuyahoga Community College (Tri-C®) is partnering with Cuyahoga County to provide countywide police officer training with an emphasis on de-escalation techniques; understanding law enforcement's role in mass gatherings and protests; mitigating bias in police work; and building trust within the community. 
Cuyahoga County has committed $250,000 to Tri-C to provide five virtual and 25 in-person, scenario-based training sessions for 2,500 sworn police officers within Cuyahoga County. 
The primary goal of the project is to ensure that all law enforcement officers within Cuyahoga County — including sheriff's deputies and municipal police officers —receive the same police training. This will enable officers to have the same knowledge base, resulting in uniform response regardless of their agency. 
"It is crucial that all law enforcement officers in Cuyahoga County know and understand techniques that will increase the chances of a positive, nonviolent response or outcome and decrease the need to use force during an intense encounter," said Cuyahoga County Executive Armond Budish. "I look forward to being a part of Tri-C's innovative program that is aimed at taking a proactive approach to training law enforcement and police officers in the county." 
Cuyahoga County Councilman Michael Gallagher envisioned the idea for the training program, announced Aug. 31. 
"Throughout Cuyahoga County, there are more than sixty law enforcement agencies working to protect all of us," Gallagher said. "Tri-C teaches best-practice techniques that lead to safer communities and better outcomes for county residents, and I am proud to work with Tri-C to get the best training and resources for our frontline officers so all county residents can be safe, secure and protected." 
The training will be delivered through Tri-C's Public Safety Center of Excellence. The College will offer virtual/remote instruction and in-person sessions at its Simulated Scenario Village, a training complex that will give officers the opportunity to react to real-world scenarios they might encounter while on the job.  
"This is a historic opportunity to address issues related to law enforcement training in our county," said Clayton Harris, dean of public safety at Tri-C. "The College is here to support the community. Our mission is to enhance and expand the training received by first responders to help them best serve the residents they've sworn to protect. We look forward to building even better officers and taking policing to a higher level." 
The training courses will focus on: 
De-escalation techniques that can be used by law enforcement officers when interacting with people in crisis.
Increasing awareness of how race and trauma can affect police interactions with people in crisis.
Law enforcement's role in mass gatherings, protests and riots, with an objective of understanding the First Amendment Rights of citizens and the media and how to enforce the law while protecting those rights.
Identifying the long-term effects of hypervigilance and the role it plays in officer conduct.
Defining biased policing and understanding the concepts of implicit and explicit biases, how biases can be mitigated, and how biases can impede successful policing.
Community-oriented policing, with an emphasis on strong customer service and understanding the relevance of building and maintaining relationships between police and people in the communities they serve. 
Tri-C's Public Safety Training Center will deliver five livestreamed virtual training sessions for up to 500 police officers each along with 25 scenario-based trainings for 100 officers each session.
August 31, 2020
John Horton, 216-987-4281 john.horton@tri-c.edu