Tri-C Culinary Program Serving Up Cooking Videos
Facebook post by chef Ky-Wai Wong to be followed by student videos during COVID-19 outbreak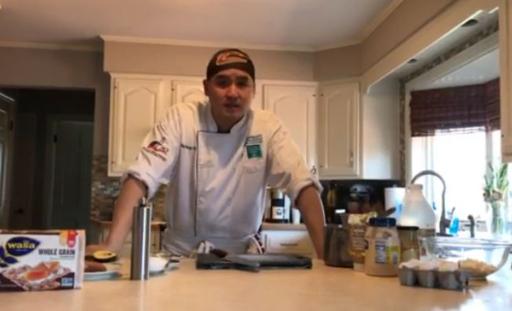 There's a meal hiding in your kitchen if you know where to look.
Chef Ky-Wai Wong — a culinary professor at Cuyahoga Community College (Tri-C®) — recently posted an online video on making egg salad. (Click here to view or visit the Tri-C Hospitality Management Facebook page.)
Working out of his home kitchen, Wong offers step-by-step instructions to create the perfect egg salad. "It's so delicious, you can eat it out of the bowl," Wong says.
His pro tip? Use mustard to kick up the flavor. Wong pulled what he dubbed "fancy-pants" grain mustard out of the refrigerator to add some punch to his egg salad.
The entertaining video is the first of many that will be posted to the program's Facebook page. As courses at the College moved to remote delivery given the COVID-19 outbreak, Wong is asking students to post videos as part of their studies.
Wong expects the first student videos to go up mid-April. Take note, Food Network.
March 31, 2020
John Horton, 216-987-4281 john.horton@tri-c.edu