Tri-C Community Champions: The Rev. Kenneth O. Knox and LaShawnda Berry-Knox
Couple share value of College with Hopewell Missionary Baptist Church congregation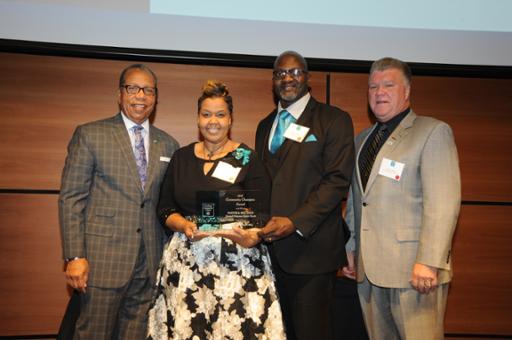 Cuyahoga Community College (Tri-C®) recently honored The Rev. Kenneth O. Knox and his wife, LaShawnda Berry-Knox, with a Community Champion Award for their campaign at Hopewell Missionary Baptist Church supporting the College's 2017 bond issue request.
The couple worked to highlight Tri-C's positive impact on the community while heightening awareness of the ballot issue for the Cleveland congregation. Each Sunday, they invited church members who attended the College to share how they benefited from the power of a Tri-C education.
They also focused discussions on how College programs reached community members of all ages, from children just starting their academic journey to grandparents expanding on a lifetime of knowledge.
Tri-C's director of government relations, Katie Montgomery, applauded the creativity and thoughtfulness of the couple's informational campaign when nominating them for the award. She said their work helped the election request pass with 68 percent voter support.
"When I think of Community Champions for Tri-C, I think of LaShawnda Berry-Knox and Pastor Knox and the inherent power of asking, 'What can I do next to help?'" Montgomery wrote in her nomination.
The Community Champion Award was presented to Knox and Berry-Knox earlier this month during the College's Appreciation Breakfast, held at Corporate College® East in Warrensville Heights.
Berry-Knox attends Tri-C and works at the College as a training development coordinator.
June 12, 2018
John Horton, 216-987-4281 john.horton@tri-c.edu