Tri-C Community Champion: KeyBank
Company has changed countless lives with $5.6 million in donations to the College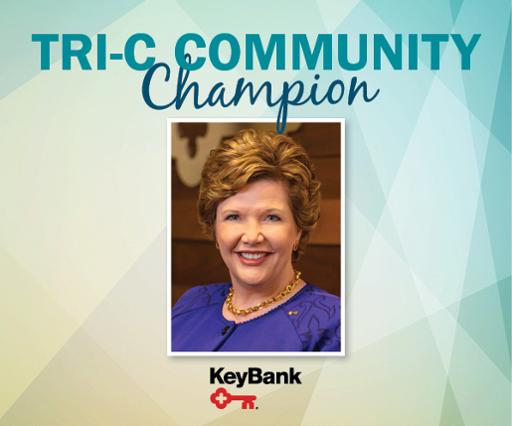 Cuyahoga Community College (Tri-C®) recently honored KeyBank with a Community Champion Award for its longstanding support preparing Tri-C students "for thriving futures." 
The financial services company and the KeyBank Foundation have contributed more than $5.6 million to the College since 1993. KeyBank has partnered with Tri-C on a variety of programs and initiatives benefiting students and the community. 
Examples include:
A $1.4 million grant awarded in 2016 to enhance and expand public safety education and training programs at the College, particularly for underrepresented groups in the field. The gift helped position Tri-C as a leader in training first responders to keep our communities safe.
Investments in multiple scholarship funds over the years to improve access to higher education. More than 1,000 Tri-C students have received a KeyBank scholarship to pursue their dreams.
A $1 million grant in 2001 to transform the College's career services programming and assist job seekers as they enter Northeast Ohio's workforce. KeyBank continues to work with the College's Career Center, which serves 10,000 students a year.
Serving as presenting sponsor of Tri-C JazzFest since 2015 to make music and the creative arts a community experience that can be shared by all. 
Tri-C also benefits from the leadership and expertise of KeyBank executives, including Trina Evans. The executive vice president and director of Corporate Center for KeyCorp is a member of the Cuyahoga Community College Foundation Board of Directors and a past chairperson. 
Retired KeyBank Foundation president Margot Copeland serves on Tri-C's Board of Visitors, while retired executive Bruce Murphy served on the Tri-C Board of Trustees from 2007 to 2012. 
Tri-C Foundation President Megan O'Bryan nominated KeyBank for the Community Champion Award. She said Tri-C's programs, scholarship funds and community presence have all benefited from KeyBank's sustained support. 
"Our organizations share values and a commitment to a stronger, more diverse and prepared workforce that will thrive while building our local economy," O'Bryan wrote. 
The College announced KeyBank as one of its Community Champion Award winners during a virtual ceremony Sept. 18. Tri-C's Office of Government Relations and Community Outreach sponsors the recognition program.
September 18, 2020
John Horton, 216-987-4281 john.horton@tri-c.edu