Tri-C Community Champion: Denis Nowacki
Painesville Township man honors his son's legacy with first responder scholarships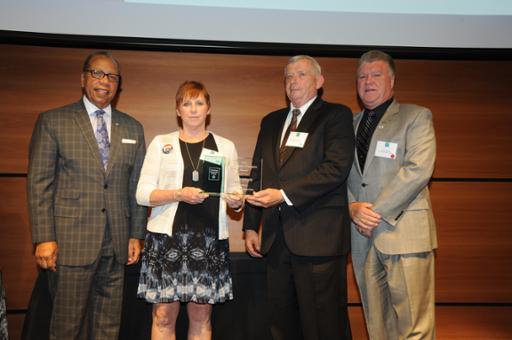 Cuyahoga Community College (Tri-C®) recently honored Denis Nowacki of Painesville Township with a Community Champion Award for memorializing his son through first responder scholarships at Tri-C's Public Safety Center of Excellence.
Nowacki serves as principal officer of The Andy Nowacki Foundation. He and his wife, Sheila, created the foundation in memory of their son, U.S. Marine Corps Lance Cpl. Andy "Ace" Nowacki, who was killed by a roadside bomb in Iraq in 2005.
The foundation provides public safety scholarships to reflect Lance Cpl. Nowacki's service to others and strong sense of commitment and community. He was a police officer in Grand River before his death.
To date, the foundation has awarded a half-dozen scholarships to Tri-C students.
"Denis and The Andy Nowacki Foundation truly embrace the mission, vision and values of Cuyahoga Community College through their approach and through the scholarship recipients," Tri-C Police Academy Commander Jamie Tavano wrote in his award nomination.
The Community Champion Award was presented to Nowacki earlier this month during the College's Appreciation Breakfast, held at Corporate College® East in Warrensville Heights.
June 14, 2018
John Horton, 216-987-4281 john.horton@tri-c.edu