Tri-C Commemorates 75th Anniversary of D-Day
'Reflections and Remembrance' vigil to take place June 5 at Western Campus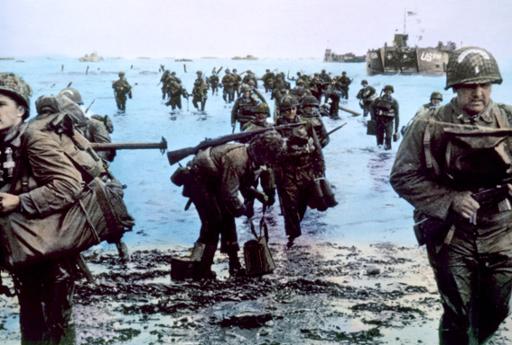 Cuyahoga Community College (Tri-C®) will commemorate the 75th anniversary of the D-Day invasion — a deadly mission that changed the course of World War II — during an evening vigil Wednesday, June 5, at Western Campus. 
"Reflections and Remembrance" begins at 7 p.m. in the B Atrium of the Liberal Arts building on the southwest side of campus. The free community event will include the presentation of a D-Day video documentary from the College's Crile Archive Center.
A wreath-laying memorial service will also take place at the Veterans Memorial Garden on campus to honor the thousands who lost their lives storming the beaches of Normandy.
More than 156,000 American, British and Canadian troops landed on the coast of northern France the morning of June 6, 1944. The amphibious military invasion — the largest in history — gave the Allies a critical foothold in Nazi-occupied territory.
The timing of the vigil coincides with the hour the troops readied themselves for the mission.
"D-Day became the catalyst for victory over Germany, but it came at a huge cost," said James Banks, history professor emeritus at Tri-C and founder and director of the Crile Archives. "So, so many died that day claiming a sliver of sand.
"Their sacrifice shall never be forgotten. The courage of those troops changed more than the course of World War II. It changed world history."
A community reception will follow the ceremony, which is presented by the Tri-C Veterans Initiative and the Crile Archives. Call 216-987-3193 for more information on the event. Western Campus is located at 11000 Pleasant Valley Road in Parma.
May 23, 2019
John Horton, 216-987-4281 john.horton@tri-c.edu