Tri-C Celebrates Academic Success of Minority Scholars
Nearly $50,000 in scholarships awarded during Frances M. Franklin Luncheon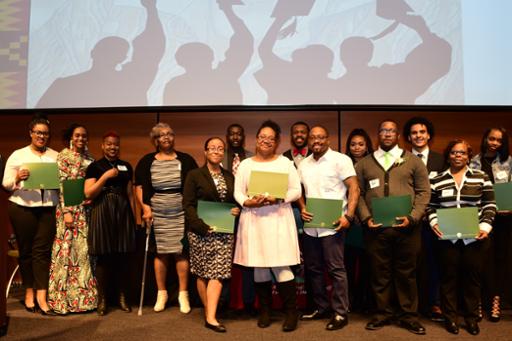 Cuyahoga Community College (Tri-C®) celebrated the academic achievements of dozens of minority students during an April 28 scholarship luncheon at Corporate College® East.
The College awarded nearly $50,000 in scholarships during the 28th annual Frances M. Franklin Scholarship and Protégé Luncheon, an event sponsored by Tri-C's Black American Council.
Tri-C scholarship recipients, by category, included:
Excellence Award (4.0-3.5 GPA): Ibrahim Ahmed, Naleta Andrews, Brandon Cole, Michael Coles, Ajhasia Dumas, Blessing Emereonye, Chaka Gningue, Brian Hall, Ashley Hetman, Josue Kabongo, Mohamed Masoud, Selena Melendez, Sasha Proctor, Christian Ratcliffe, Erica Savage, Ariyon Sweet and Camilya Williams.
Merit Award: (3.49-3.00 GPA): Mohamed Ag Almahamoud, Rashon Blake, Nikki Butler, Cynthia Cannon, Tomeka Carter, Kimberlie Clark, Shayvell Conner, Timberly Edwards, Kokou Eklou, Nia Forbes, Sierra Germany, Sharon Gill, Antoinette Grimes, De'Shawn Hall, Angela Harris, Raziya Hernton, Kevin Jones, Pamela Kirks, Derrick Lee, Ebonie Magby, Kayla Millender, Chance Miller, Kayla Mosley, Ta'Janae Murphy, Zaria Nichols, April Parker, Oluwatosin Popoola, Tyrone Rand, Kevin Richardson, Kebin Sam-Yellowe, Hezekiah Sherman, Shilpa Shrestha, Unique Smith, Kelvin Spates Jr., Aleena Starks, Theresa Taylor, Noreen Thomas, Calvin Thomas, Siera Thomas, Stephanie Tisder, Stacey Wallace, Jarusha Weeks, Rachelle White and Chelsea Williams.
Outstanding Mentees: Zoe Day, Winchell Grant, Kevin M. Jones Jr., Calvin Thomas and Noreen Thomas.
Outstanding Alumna: Tameka Ewing.
Essay Awards: Kebin Sam-Yellowe, Ta'Leeyah O'Neal, Ajhasia Dumas, Mohamed Ag Almahamoud and Sean Andalcio.
The Black American Council also presented its College Service Award to Nichelle Knox in recognition of her longtime support as part of the Frances M. Franklin and Protégé Luncheon Fundraising Committee. Knox currently serves as lead administrative assistant to the College's associate vice president of Access and Community Engagement.
The luncheon honors Frances Mason Franklin, an English professor at the College from 1969 to 1983 who mentored countless students and faculty. Proceeds support the Frances M. Franklin Scholarship Fund of the Cuyahoga Community College Foundation.
The event is the main fundraiser for the Black American Council, which grew from a group founded in 1969 to support and encourage minority students at Tri-C.
For information on how to support the scholarship fund to help students complete their studies, call the Foundation at 216-987-4868. Additional scholarships will be awarded to deserving students in the fall.
April 30, 2018
John Horton, 216-987-4281 john.horton@tri-c.edu