Tri-C Black American Council Celebrates Achievement of Minority Scholars
Frances M. Franklin Scholarship and Protégé Luncheon will take place virtually May 6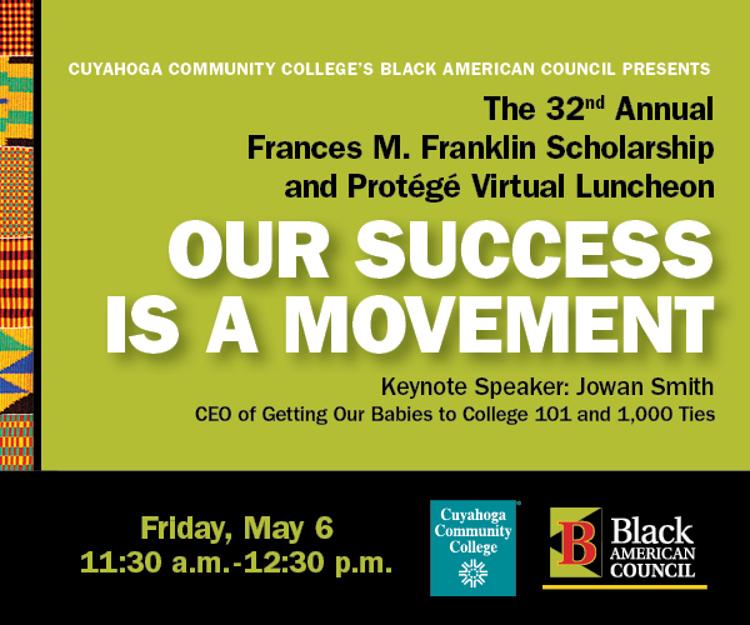 Celebrate the academic achievement of minority scholars at Cuyahoga Community College (Tri-C®) during the 32nd annual Frances M. Franklin Scholarship and Protégé Luncheon on Friday, May 6.
The virtual program will take place from 11:30 a.m. to 12:30 p.m. Nearly $50,000 in scholarships will be awarded during the event, sponsored by Tri-C's Black American Council.
Education advocate and author Jowan Smith headlines the event as keynote speaker. Smith is the founder and CEO of Getting Our Babies to College 101, which facilitates workshops in five local school districts and one prison to help thousands of students and parents navigate the journey to a college degree. She also created 1,000 Ties to teach life skills to young men ages 6-21 and connect them with community mentors.
Visit tri-c.edu/franklintickets to register. Cost is $25. The luncheon is the main fundraiser for the Black American Council, which serves students through community outreach and involvement, career development opportunities, workshops and forums, and cultural awareness activities.
The event honors Frances Mason Franklin, an English professor at the College from 1969 to 1983 who mentored countless students and faculty. Proceeds support the Frances M. Franklin Scholarship Fund of the Cuyahoga Community College Foundation.
Donations to the scholarship fund can be made through the event registration link. Contact the Foundation at 216-987-4868 or visit tri-c.edu/give for more information on how to help Tri-C students complete their studies.
April 29, 2022
Anthony Moujaes, 216-987-3068 or anthony.moujaes@tri-c.edu