Tri-C Associate Professor Discovers Great-Great-Grandfather's Civil War Flag
Daniel Levin discusses flag, state of the country, in cleveland.com opinion column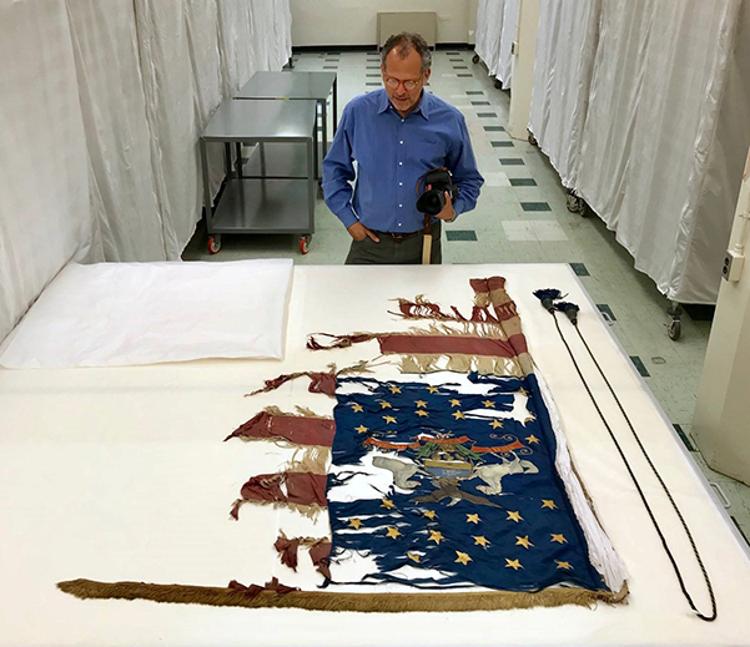 Last month, Cuyahoga Community College associate photography professor Daniel Levin discovered a piece of American history — and a piece of his family's history.

Locked away in an archive at the Pennsylvania State Capitol is the flag of the 74th Pennsylvania Volunteer Infantry. Comprised entirely of German-speaking immigrants, the regiment saw action at major Civil War battles including Chancellorsville, Gettysburg and the Second Battle of Bull Run.

The years have taken their toll on the regimental flag, which is now little more than a few scraps of cloth attached to the hoist end. But when an archivist offered to show Levin the flag, he made the long drive to Harrisburg. It was a chance to reach back in time more than 150 years — all the way to his great-great-grandfather, who served in Company G of the 74th Pennsylvania.

Bernardt Pichel immigrated to the U.S. from Vienna, in what was then the Austrian Empire. He settled in Pittsburgh, scratched out a meager living as a cigar maker and joined the Union Army not long after war broke out in 1861.

Seeing the flag allowed Levin to not only reflect on his family history, but also on the current state of the country. In a recent cleveland.com opinion column, Levin discusses the ways in which America has changed — and hasn't changed — in the last 150 years. Levin ponders what his great-great-grandfather would think of the manner in which we are celebrating and protecting the ideals for which he fought more than a century and a half ago.
November 27, 2018
Erik Cassano, 216-987-3577 or erik.cassano@tri-c.edu