Tri-C Announces 2020 Alumni Award Recipients
Harold Anderson, Jamal Julia Boudiab and Lawrence Heller honored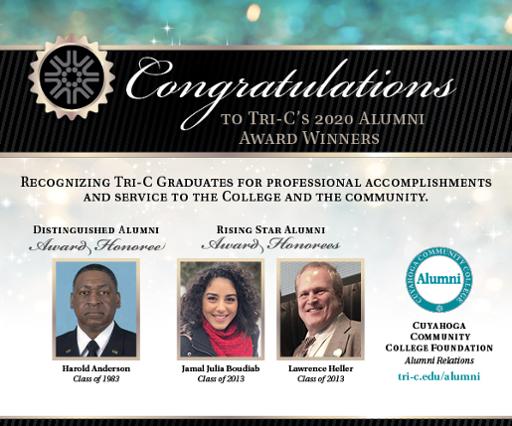 Cuyahoga Community College (Tri-C®) today awarded Alumni Awards to Harold Anderson, Jamal Julia Boudiab and Lawrence Heller for their contributions to the community after graduating from Tri-C. 
Tri-C established the awards to recognize alumni for their professional accomplishments and service to Northeast Ohio and the College. Honorees were selected from community nominations. 
Anderson received the Distinguished Alumni Award, designated for those who earned degrees more than a decade ago. Boudiab and Heller received Rising Star Alumni Awards, which recognize more recent graduates. 
"These graduates show the power of a Tri-C education," said Megan O'Bryan, the College's vice president of resource development. "They are remarkable examples of what can happen when you dream big and take full advantage of everything the College has to offer." 
Here are their stories. 
Harold Anderson
Decorated service in the U.S. Army Reserve and work as an educator and community leader highlight this 1983 Tri-C graduate's resume. 
Anderson enlisted in the military more than three decades ago and has risen to the rank of colonel. During his service, he has deployed to the Middle East twice and been assigned to the Pentagon. 
When he's not in uniform, Anderson teaches physical education at East Cleveland schools. He earned a bachelor's degree in physical education from the University of Texas-Pan American and a master's in educational leadership from the University of Texas-Arlington. 
Through his work with the Alpha Phi Alpha fraternity, Anderson founded and chaired Cleveland's first Thurgood Marshall Oratorical Debate competition in 2018. He also created an urban student forum for more than 250 middle and high school students. 
Anderson serves on the advisory council for the Louis Stokes Cleveland VA Medical Center in Cleveland and on the board of directors of Lake Erie College in Painesville. 
Jamal Julia Boudiab
This 2013 Tri-C graduate is part of the leadership board of the Arab Americans of Cleveland (AAC) – Young Professionals Network and a founder of Masrah Cleveland Al-Arabi, a Cleveland Public Theatre program by and for Arabic-speaking communities. 
Boudiab studied graphic design at Tri-C and earned an Associate of Applied Business degree in 2013. She's currently a licensed real estate agent and operations manager at B2B Realty, where she leads the property management department. 
Born and raised in Lebanon, Boudiab immigrated to the United States with her family in 2006. She enrolled at Tri-C after graduating from Cleveland's Lincoln-West High School. 
The AAC formed last year to connect young Arab Americans in the city, organize events and create a solid network of professionals. Boudiab said she joined the board to help support the close-knit ethnic community. 
Aside from helping to launch Masrah Cleveland Al-Arabi, Boudiab has also been a cast member in several productions. Previously, she spent a decade as a member of the Ajyal Dabke Lebanese dance group and performed in many festivals around the region. 
Lawrence Heller
This 2013 Tri-C graduate found a new future at the College. Today, he works to help others find a better tomorrow as an addiction counselor at Northern Ohio Recovery Association (NORA) in Cleveland. 
Heller provides individual and group counseling at NORA while also managing client cases. During the coronavirus crisis, he helped NORA agency groups shift to telehealth services. 
He serves on the Mental Health Advisory Committee of the Cuyahoga County Opiate Task Force. Heller is also an active community volunteer, distributing meals to those in need every weekend. Last year, he gave out 1,000 coats to take the chill out of Cleveland's winters. 
His work at Tri-C, where he helped establish campus food pantries, foretold his desire to go above and beyond to help others. 
After graduating from Tri-C, Heller earned bachelor's degrees in social work and psychology from Cleveland State University. He says life's greatest reward is being able to see the look in someone's eyes when they begin to find hope.
September 18, 2020
John Horton, 216-987-4281 john.horton@tri-c.edu