Tri-C and RTA Join Forces to Offer Temporary CDL Training for Bus Operators
Program is designed to address a shortage of drivers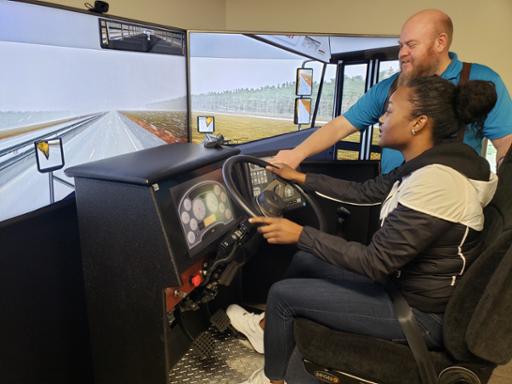 A new training program offered through Cuyahoga Community College (Tri-C®) will help the Greater Cleveland Regional Transit Authority (RTA) address a shortage of drivers and fill job openings.
Tri-C and RTA developed the Temporary Commercial Driver's License (CDL) Training Program to create a larger pipeline of operator applicants — bus and paratransit — and remove barriers that unnecessarily discourage interested and qualified applicants.
The first group of eight students completed their training in October and passed the test to receive their temporary CDL permit. The program is run out of Tri-C's Transportation Innovation Center in Euclid.
"Tri-C is a valuable partner in helping RTA recruit and train one of our most valuable assets —our operators," said India Birdsong, RTA's CEO and general manager. "Workforce readiness is a goal we share that positively impacts the community.
"Together, RTA and Tri-C are making it easier for operators to be hired, to be prepared to begin training quickly and to get on the road serving our customers as soon as possible. Together, we're making it easier to put more people to work while providing them with a sustainable, living wage, terrific benefits and job security."
Class groups are scheduled every two weeks based on the hiring of RTA new student operator trainees. Sessions run for four days at the Transportation Innovation Center. RTA hires up to eight new student operators per class group.
This program prepares RTA's new student operator trainees to take and pass the testing required to obtain a temporary permit. Additionally, the classes provide tips for the permanent CDL process.
This initiative is particularly important to RTA, as there is a constant and critical need to hire part-time and full-time operators to keep up with the agency's ability to provide safe, reliable, clean and courteous service to customers in Cuyahoga County.
In any given month, 10 to 12 RTA operators retire. The transit agency said it is critical to have a pipeline of qualified operators to replace them. The starting wage for RTA bus/rail operators is $17.21 per hour.
Officials from Tri-C and RTA met Nov. 18 at the Transportation Innovation Center to celebrate the training initiative. The center serves as the hub of College programs centered on transportation and logistics.
To view an Ideastream report on the new training program, click here.
November 18, 2019
John Horton, 216-987-4281 john.horton@tri-c.edu