Tri-C Alum Honors Faculty With a Scholarship and a Surprise
Ariane Kirkpatrick donation establishes the Kathy Baka Inspirational Scholarship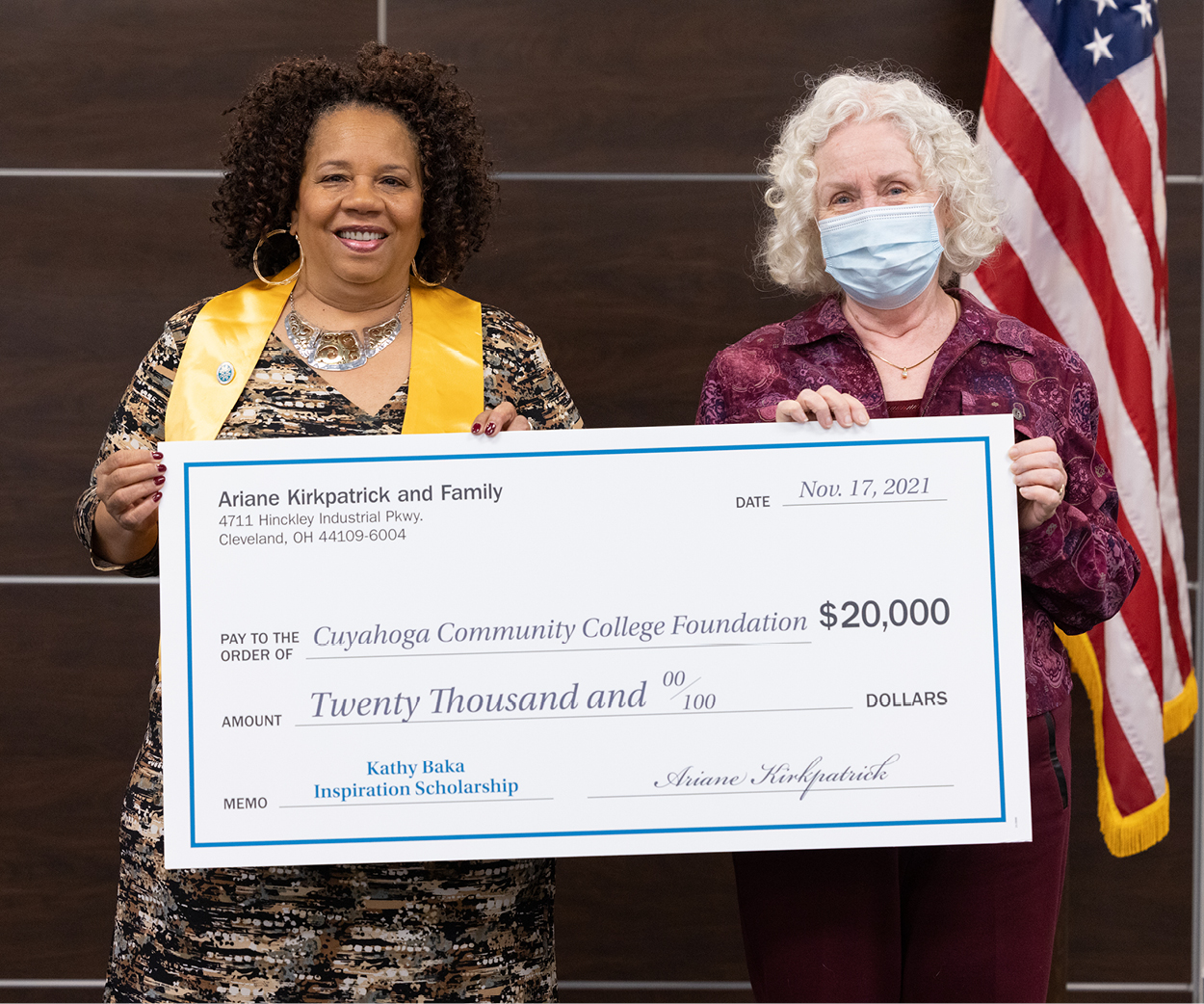 A history professor's investment in a Cuyahoga Community College (Tri-C®) student decades ago is being paid forward to future learners.
Cleveland business owner and 1990 Tri-C graduate Ariane Kirkpatrick established the Kathy Baka Inspiration Scholarship in a ceremony Nov. 17 among family, friends and College representatives.
The scholarship honors history professor Kathy Baka, whose passion for education has supported countless students. Kirkpatrick created the scholarship to recognize Baka's impact on her life.
"This is a professor who took a chance on me," Kirkpatrick said. "She showed me just how important it was to make sure I was getting out what I was trying to put in."
The campus event was an award ceremony to present Kirkpatrick with the Tri-C Distinguished Alumni Award; she used her acceptance speech to surprise Baka by presenting a $20,000 contribution to establish a scholarship that aims to impact the lives of Tri-C students.
Kirkpatrick serves on the College's Workforce, Community and Economic Development (WCED) Board of Visitors. She is also owner and president of The AKA Team, a company that provides construction management, commercial cleaning, waterproofing and environmental safety solutions.
Her path brought her to Tri-C at a young age, when she and her sister sat in on classes in which their mother was enrolled.
"My sister and I came to class many, many evenings with our mother, who instilled in us how important education is," Kirkpatrick said. "It wasn't the traditional route to education for my mom, a housewife who decided to go back to school. She absolutely loved Tri-C."
"I attribute my success obviously to my family, but also to a special person that I invited here today," Kirkpatrick said at the Nov. 17 ceremony, where she described her experience in Baka's history course.
With classes scheduled for four hours on Saturdays, Kirkpatrick often showed up late.
So, Baka told the entire class that she wouldn't begin teaching until Kirkpatrick arrived. Kirkpatrick showed up late one final time, only to see her classmates roll their eyes as she arrived. In that moment, she knew she needed a different approach.
"From that day on, my life changed," Kirkpatrick said. "She [Baka] pushed me, and I thank her for that."
Scholarship applications are now available for the 2022 Spring Semester, 2022 Summer Semester, and the 2022-23 Academic Year.
November 24, 2021
Anthony Moujaes, 216-987-3068 anthony.moujaes@tri-c.edu