Tri-C's Adam Smith: Answering a New Call of Duty
U.S. Army veteran redirected his desire to serve following a combat injury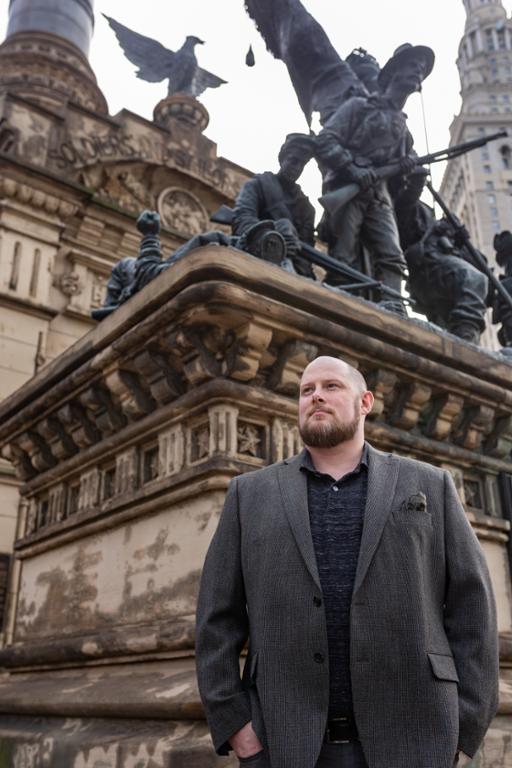 Standing atop a mountain outcrop in the Uruzgan province of Afghanistan, the unmistakable hiss of danger stabbed at U.S. Army Sgt. Adam Smith's senses. He barely had time to move before the incoming warhead arrived.
The concussive blast from the explosion launched Smith into the rocks below. He shredded both elbows and busted multiple body parts while slamming back to the ground.
That day in 2014 ended his military career. It also made him realize what it means to need help.
"I've been at a very low point," the 34-year-old said. "So when I see other people suffering, when I see someone struggling or feeling hopeless, it hurts me. I want to make things better for them. I want to make things right."
Achieving that goal brought Smith to Cuyahoga Community College and Tri-C's Jack, Joseph and Morton Mandel Humanities Center, where there's a focus on civic engagement and leadership.
He's driven by the same ideal — a desire to serve — that prompted him to enlist in the Army after graduating from Ashtabula County's Grand Valley High School.
Smith became a paratrooper in the Army's famed 82nd Airborne Division during his decade in uniform. He deployed to Afghanistan twice and spent a combined 31 months in the combat zone before being wounded.
After returning home to recover from multiple surgeries, Smith looked around Northeast Ohio and saw a new way to direct his energy.
He began by volunteering with Safe Passages, an initiative designed to connect opiate addicts with treatment. The program is run in partnership with local police departments. Smith said he has shepherded 38 people to treatment.
"That really got me into my 'I-have-to-do-something' mentality," Smith said.
He rode that momentum into Tri-C. Smith enrolled last year after visiting the Veterans Education Access Program office at Metropolitan Campus, where he found an energy level that matched his own. The connection to the Mandel Humanities Center at Eastern Campus soon followed.
Along the way, he co-founded a "veterans think tank" called Complex Questions at Metro Campus to discuss community issues and — more importantly — develop action plans to create solutions.
"The idea of serving isn't something that disappears once you leave the military," Smith said. "This is a way for us, now as citizens, to continue making a difference. There is so much we can accomplish as veterans."
Smith is working toward an Associate of Arts degree at the College with a focus on history. This spring, he'll begin an internship at the Soldiers' and Sailors' Monument on Cleveland Public Square. (His work as a Mandel Scholar connected him to the post.)
The internship fits with Smith's ambition of someday working as a historian at a museum.
Smith expects to graduate from Tri-C in 2021. He hopes to continue his education at Case Western Reserve University after transferring through the Cleveland Humanities Collaborative, a partnership between the institutions.
Along the way, he plans to continue finding ways to lift his community. One idea involves planting orchards on vacant lots around his Garfield Heights neighborhood.
"Problems represent opportunities," Smith said. "It's just a matter of taking action and realizing that small steps can lead to big changes. Why do I feel like I have to do it? Well, someone has to … and it might as well be me."
March 24, 2020
John Horton, 216-987-4281 john.horton@tri-c.edu