Tri-C Accreditation Reaffirmed by Higher Learning Commission
HLC officially adopts recommendation of site team following February visit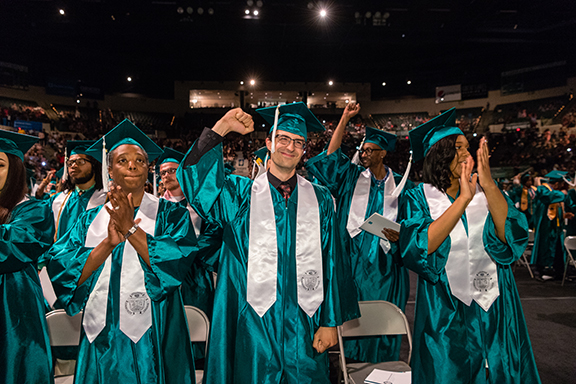 After four months of anticipation, the long-awaited news finally arrived on Wednesday: Cuyahoga Community College's accreditation has been reaffirmed by the Higher Learning Commission.
The reaffirmation comes as the result of the HLC's regular eight-year review of the College's governance, policies and academic standards. An HLC site team visited Tri-C for two days in February, meeting with College President Alex Johnson, administrators, faculty, staff and students, to assess the state of the College in key performance areas.
Following the visit, the site team recommended the reaffirmation of the College's accreditation. With official HLC approval now secured, Tri-C's accreditation will next be up for review during or before the 2027-2028 academic year.
Accreditation is a foundational necessity for an academic institution like Tri-C. It serves as a "stamp of approval" on the College's academic standards, and in turn, on the degrees and certificates the College confers.
Without accreditation, students at a college or university cannot apply for federal financial aid, transfer options are severely limited and the marketability of degrees to potential employers is greatly reduced.
In a statement released Wednesday, Karen Miller, Tri-C's executive vice president of access, learning and success, thanked the entire Tri-C community for its work on the accreditation project over the past year.
"Maintaining our accreditation is at the heart of the mission of the College to provide high-quality, accessible and affordable educational opportunities to our students," Miller said. "Our outstanding accreditation report is a reflection of our collective dedication to our students, and Tri-C's continuous work to help more students complete and succeed."
June 20, 2018
Erik Cassano, 216-987-3577 or erik.cassano@tri-c.edu