Transformation of Metro Campus Receives Regional Award
Vibrant NEO celebrates Tri-C project for adding new energy to neighborhood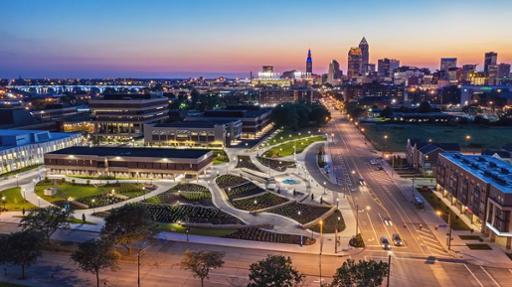 Cuyahoga Community College (Tri-C®) received a Vibrant NEO Champion Award for its work transforming Metropolitan Campus from a concrete-dominated landscape into a lush urban oasis.
Vibrant NEO announced the honor during a Nov. 14 ceremony honoring projects across the region. The nonprofit organization was created to implement Vibrant NEO 2040, a community-based strategic development plan for Northeast Ohio.
The organization's goal is to promote projects and policies that strengthen and bring new life to established neighborhoods.
The makeover at Metro Campus softened a harsh and unwelcoming appearance. The old look reflected the Brutalist design movement in vogue a half-century ago when crews broke ground on the downtown campus.
The redesign — which has been implemented in stages — added much-needed greenery and social space that presents a more welcoming image to the surrounding community.
Vibrant NEO presented Tri-C with a Regional Sustainable Award for the project. The Metro Campus revamp was one of six projects honored by the organization during its second annual awards ceremony.
City Architecture of Cleveland led the campus redesign for the College. The award-winning renovation of the Metro Campus Center fit within the overall campus redo, with the two projects blending seamlessly.
November 18, 2019
John Horton, 216-987-4281 john.horton@tri-c.edu