Thrown a Curveball
After Ken Lugo's baseball dream ended, a new career goal emerged with the help of Tri-C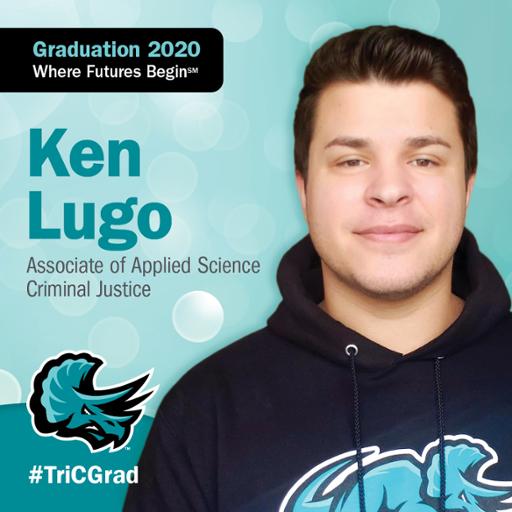 Ken Lugo saw diamonds in his future as a student at Brunswick High School. He expected to earn his diploma and head to either Bowling Green State University or Ball State University, schools that recruited him to play baseball.
Fate had a different plan. Lugo injured his knee during his senior year, dashing his dreams of playing collegiate baseball.
At that point, Lugo didn't even see college in his future.
Fast forward 10 years, and the 28-year old Brunswick resident will graduate this month from Cuyahoga Community College (Tri-C®) with an Associate of Applied Science degree in criminal justice.
It has been a long road to a degree. Lugo tried many different jobs, but didn't see any of them as a career. His mom, an X-ray technician, encouraged him to enroll in Tri-C's Radiography program. But after taking a few courses, Lugo decided the medical field wasn't right for him.
Not sure what to do next, a family friend ― and FBI agent ― invited Lugo to join him at a professional conference focused on law enforcement careers. Lugo quickly found himself hooked.
He headed back to Tri-C, this time to enroll in the Criminal Justice program. Lugo said his instructors brought the profession to life through hands-on training and detail-oriented lectures.
"They showed you the paperwork and software tools that you'd use on the job," he said. "They shared their personal experiences from working in the field."
His favorite class was Introduction to Medicolegal Death Investigation, which included a visit to the Cuyahoga County Coroner's Office for an autopsy and a lesson on medical evidence gathering.
Looking toward the future, Lugo plans to pursue a bachelor's degree in criminal justice from Tiffin University. An articulation agreement between Tri-C and Tiffin offers a seamless transfer between the schools.
Eventually, he wants to move to Washington, D.C., to work in the intelligence field.  
Cuyahoga Community College will celebrate the academic achievements of approximately 2,500 graduates on May 14 during a virtual ceremony. Check our News and Events page in the days leading up to the online event as we highlight members of the Class of 2020.
May 10, 2020
Kathy Gill, 216-987-4704 kathy.gill@tri-c.edu