Through a Lens of Hope
Tri-C professor Daniel Levin believes in the power of photography to make tough topics accessible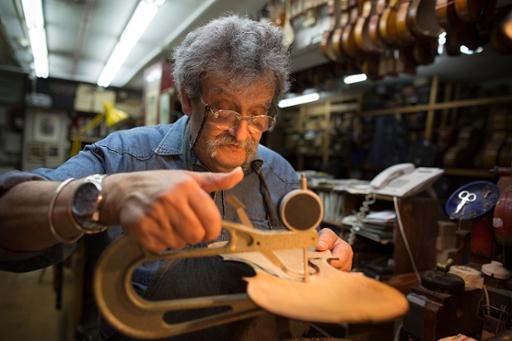 When Daniel Levin first entered luthier Amnon Weinstein's workshop in Tel Aviv, Israel, his response was visceral. From the pungent scent of varnish to the piles of spruce and maple shavings, everything in the room gave off a palpable energy.
That energy is what Levin, a photography professor at Tri-C, set out to capture in his 2015 series of photographs documenting Weinstein's mission to rescue and restore violins played by Jewish musicians during the Holocaust.
Historian James A. Grymes' 2014 book, Violins of Hope, brought the story to light. But Levin wanted to know more.
"There was already a lot of information out there about the violins themselves," he said. "What I was interested in was, 'Who is this guy, and what are his skills? What does a luthier do? What does his workshop look like?'"
A grant from the Jewish Federation of Cleveland allowed him to find out.
"The Weinsteins' Workshop: The Luthiers Who Restored the Violins of the Holocaust" is a series of 73 photographs taken by Levin during his visit to Tel Aviv. It's part of the traveling "Violins of Hope" exhibition, in which audiences can see the violins themselves as well as hear them played.
Levin, who lost a whole side of his family in the Holocaust, feels fortunate to be part of the project.
"I love that my photographs help make the story accessible to people of all ages and faiths," he said. "There's such beauty in these instruments as objects, and it's a victory that they're being played."
The series includes photographs of Weinstein cleaning, restoring and polishing the instruments, as well as a few candid shots of the luthier outside of working hours — visiting his local flea market or meeting his wife, Assi, for lunch. Many are accompanied by descriptions that provide clarity and historical context.
"It's definitely a documentary project," Levin said. "There's nothing ambiguous about it."
From the Studio to the Classroom
The frank, uncomplicated style of "The Weinsteins' Workshop" is Levin's signature. After earning a BFA in documentary photography from The Rochester Institute of Technology, he assisted established artists for a few years before "hanging his own shingle" as a commercial photographer.
Operating out of a studio in downtown Cleveland's Artcraft building, Levin specialized in environmental portraiture — capturing a subject in their own surroundings. He spent much of his time traveling to photograph a wide range of people, including public figures like Margaret Thatcher and George H.W. Bush.
After 9/11, though, the father of three decided to spend more time on the ground than in the air. He joined Tri-C In 2002, at the urging of fellow photographer Garie Waltzer — the woman who founded the College's photography program in the 1970s and spent the next three decades building its curriculum.
Levin is grateful to have landed in a place where diversity is the norm and, most importantly, where it's celebrated.
"My classroom always has an amazing mix of people — a high school kid sitting next to a guy who's just retired from working on the line at Ford, next to a prosecutor. These students, who probably never would have said hello on the street, end up pushing and encouraging and challenging one another in this wonderful way."
Students are encouraged to interpret assignments in their own way and to find unique approaches to convey beauty and meaning through their photographs.
"I tell them to avoid clichés," Levin said. "A bee on a flower, two people walking into the sunset — pictures like that are sweet, but they have no meaning anymore. They don't provoke a raw response."
Artistic Evolution
Not only does Levin challenge his students to grow as artists, he pursues growth and change in his own endeavors as well.
Since earning an MFA in visual art from Vermont College of Fine Arts several years ago, his interest in contemporary art — vastly different from the documentary style he was accustomed to — has grown.
"It's more about ideas and metaphor," he said. "The intention behind it is to stir up conversation among viewers, even if it's in their own head. It's exciting to make."
Levin's latest project, "If Not Kindness," is the largest-scale work of his career. A time-bending look at oppression, it comprises a series of tableaus built on-site and photographed in various locations throughout America. It is still under production.
Currently, "The Weinsteins' Workshop" is being exhibited in San Francisco. The exhibit will open in Los Angeles this spring and Sioux City, Iowa, in spring 2021. (It appeared in Cleveland in 2015 and Phoenix in 2019.) He cherishes the opportunity to reach so many viewers and tell such an important story through his art.
"It's an exciting time to be a photographer," he said. "This time, this moment, is a democratization of photography. It's never been more popular than it is today."
January 07, 2020
Beth Cieslik, 216-987-4538 beth.cieslik@tri-c.edu