Thousands of Miles, One Goal
Basma Kadous was drawn to nursing as she cared for her ailing father in Egypt. Now, half a world away, she's on the verge of realizing that dream.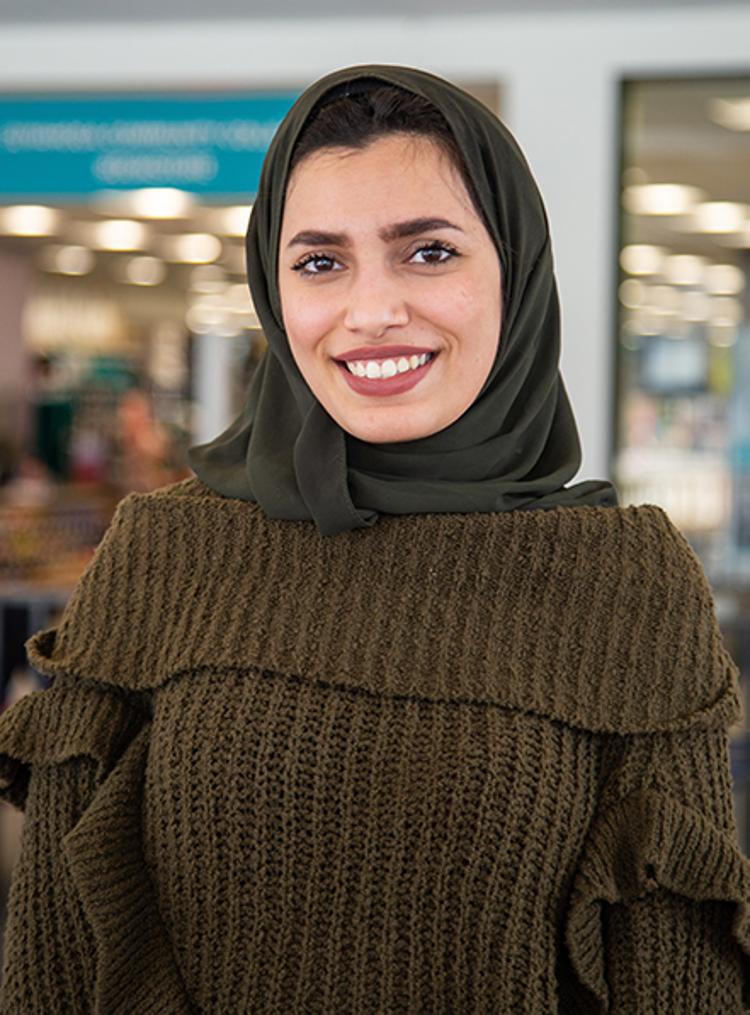 Basma Kadous has long been interested in a career in the medical field. But then again, she was introduced to it much earlier than most.

As a high school student in Egypt, she cared for her father, who had a worsening lung condition. At an age when most of her peers were studying for math and history tests, the spring 2019 Cuyahoga Community College nursing graduate was also becoming familiar with oxygen concentrators and pulse oximeters.

"I basically managed all of his oxygen assistance," Kadous said. "I had to oversee a lot of his care at home and had to look up information on his condition to get a better understanding of it. Helping him, in addition to the fact that I like to help people in general, really motivated me to get into nursing."

Kadous immigrated to the U.S. in 2016 seeking better educational opportunities than those offered by the universities in Egypt. She settled in Cleveland, where some family members already lived.

She enrolled in the nursing program at Tri-C that fall, drawn in by its reputation and affordability.

Kadous quickly became an active member of the Tri-C community, accepted into the Honors Program, Phi Theta Kappa and the Jack, Joseph and Morton Mandel Scholars Academy. She also became a peer mentor, secretary of the International Club and a member of the Black American Council.

"Every single thing I did at Tri-C helped me develop as a person," she said. "It really changed how I perceived myself, particularly as I was getting used to life in a new country."

Kadous' time at Tri-C wasn't without challenges, however. In August 2017, her father died.

"It was just as I was finishing my prerequisites and entering the nursing program," she said. "It was really hard, but the people at Tri-C helped me cope with the trauma. I got a lot of support from my instructors."

Thursday night, 22-year-old Kadous will earn an Associate of Applied Science in nursing from Tri-C. She has been accepted into the Ohio State University College of Nursing but plans to work in the field for the rest of the year before entering Ohio State in spring 2020.

"I plan to study for my bachelor's degree in nursing, and hopefully a master's degree after that," Kadous said. "Once I'm done with school, I'd like to open my own nurse practitioner clinic. I'd really like to be my own boss someday — that's how I'd define a successful career."
Cuyahoga Community College will celebrate the academic achievements of thousands of students on May 16 at Spring Commencement. Check our News and Events page in the days leading up to the ceremony as we highlight members of the Class of 2019.
May 15, 2019
Erik Cassano, 216-987-3577 erik.cassano@tri-c.edu