The Sweet Sound of Graduation
Tri-C motivated flutist Corinne Nicol to work toward a degree in music therapy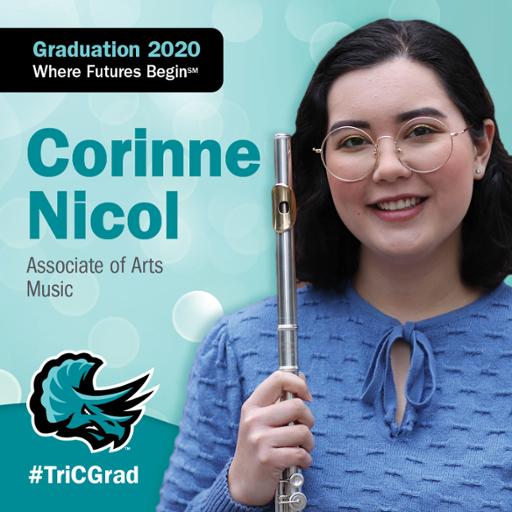 Corinne Nicol always wanted to play music. She began tapping piano keys at the age of six. Three years later, while still in elementary school, she discovered her talent for the flute.
"I picked it up and really took to it," Nicol said. "I still played others, but flute was my main instrument."
Fast forward to today, and the 20-year-old is set to graduate from Cuyahoga Community College (Tri-C®) with an Associate of Arts degree focused on music. She plans to transfer to a four-year institution to continue her education and pursue a career in music therapy.
Nicol said her time at Tri-C helped fine-tune her future plans.
 "I wasn't really in the best headspace when I started school, and I thought about taking a year off," she said. "Being at Tri-C and seeing people getting a second chance made me feel a lot less alone. It was very motivating."
The College's tuition rate — the lowest in Ohio — contributed to her decision to enroll in 2017. Nicol reduced her out-of-pocket costs even more after earning a scholarship from the Cuyahoga Community College Foundation with a near-perfect 3.966 GPA.
Commuting to Tri-C campuses from her Cleveland Heights home instead of paying for room and board at a four-year school also helped her save money.
"My ultimate goal is to complete my undergrad without any debt," Nicol said. "Tri-C helps you save a lot of money, and I really wasn't ready to go out on my own yet. It was a good balance of being in college and being close to my family."
Nicol spoke glowingly of her experiences at Tri-C, such as mixing with a diverse group of classmates, attending master classes with acclaimed artists and taking advantage of student resources like counseling and tutoring.
"There are so many great resources," she said. "While you're there and paying for tuition, take advantage of everything."
But Nicol saved her highest praise for the professors in the College's music program.
"You get a lot of attention in class," she said. "Every one of my professors has been helpful and incredibly kind. People really want you to succeed. I really love Tri-C, and I'm sad to be leaving."
Cuyahoga Community College will celebrate the academic achievements of approximately 2,500 graduates on May 14 during a virtual ceremony. Check our News and Events page in the days leading up to the online event as we highlight members of the Class of 2020.
May 09, 2020
Madeline Shepherd, 216-987-4616 madeline.shepherd@tri-c.edu