The State of Higher Ed: Roadmap to Reopening
Tri-C President Alex Johnson to join national discussion hosted by 'The Atlantic'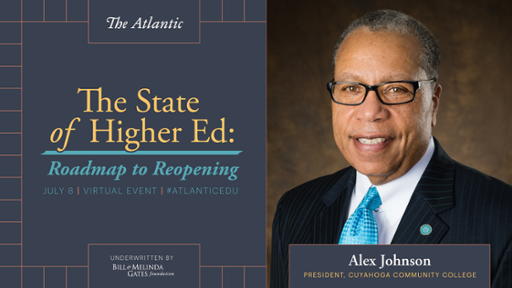 Difficult questions define the college experience. This fall, however, many of the toughest problems must be answered before classes start … and it's not the students being tested. 
The COVID-19 outbreak continues to challenge higher education leaders across the nation as they prepare to open campuses in August. It's a complex matter rooted in health, safety, equity, access, affordability and logistics. 
The Atlantic will host a webinar exploring these issues beginning at 1:30 p.m. Wednesday, July 8. Cuyahoga Community College (Tri-C®) President Alex Johnson will be among those discussing the way forward. 
The segment featuring Johnson begins at 2 p.m. and will focus on how colleges are supporting students while balancing the coronavirus crisis and budget pressures. 
Johnson will be joined on the panel by Robert E. Anderson, president of the State Higher Education Executive Officers Association, and Luis Maldonado, vice president of government relations and policy analysis with the American Association of State Colleges and Universities. 
The discussion will be moderated by Ron Brownstein, senior editor at The Atlantic. 
Click here to register for the free webinar. The program — The State of Higher Ed: Roadmap to Reopening — is being underwritten by the Bill and Melinda Gates Foundation.
July 07, 2020
John Horton, 216-987-4281 john.horton@tri-c.edu