The Right Note: Tri-C Creative Arts Academy Student Honored
Ava Preston named a winner in the 41st Annual DownBeat Student Music Awards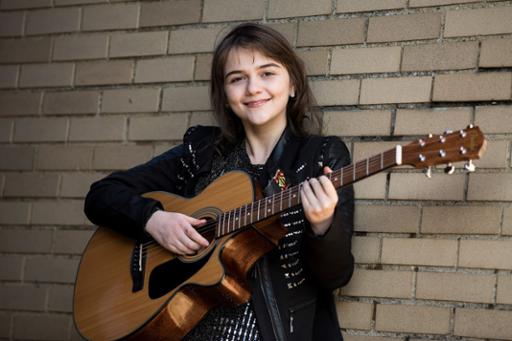 Ava Preston, a Creative Arts Academy student at Cuyahoga Community College (Tri-C®), is the recipient of two 41st Annual DownBeat Student Music Awards.
The 13-year-old jazz singer won the awards in the Junior High Category for Vocal Jazz Soloist and Blues/Pop/Rock Soloist. She was nominated by Creative Arts Academy Jazz Prep teaching artist Theron Brown.
As the oldest publication devoted to "jazz, blues and beyond," DownBeat celebrates high-caliber jazz education with its annual awards. Hundreds of musicians, music educators and music industry professionals received their first international recognition as DownBeat Student Music Award winners. 
The awards competition asks students to record their music and submit it for judging by professional musicians and educators from across the country. Judging criteria are based on musicianship, creativity, improvisation, technique, sound quality and balance, excitement and authority.
Preston, of Hudson, is a second-year student in the Creative Arts Academy's Jazz Prep and Summer Camp programs. She studies with Tri-C artist-in-residence Dominick Farinacci in both programs at the Metropolitan Campus in Cleveland.
Preston plans to enroll at Tri-C through the College Credit Plus program this summer.  
May 03, 2018
Madeline Shepherd, 216-987-4616 madeline.shepherd@tri-c.edu