The Power of Rock 'n' Roll
Proceeds from Rock & Roll Hall of Fame inductions fund new Tri-C scholarship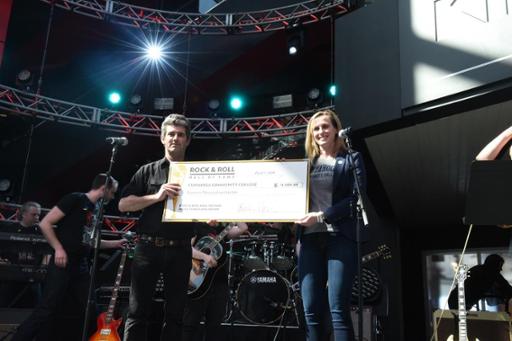 The Rock & Roll Hall of Fame kicked off its 2018 induction celebration with a gift to students at Cuyahoga Community College (Tri-C®).
A portion of the proceeds from the 2018 Rock & Roll Hall of Fame Inductions — which will be held in Cleveland on Saturday, April 14 — will go to establish a Rock & Roll Hall of Fame Scholarship at Tri-C.
Rock Hall CEO Greg Harris and 2018 Rock & Roll Hall of Fame inductee Richie Sambora of Bon Jovi announced the scholarship during an event opening the weeklong celebration.
"The induction events generate so much for our region, and we're directing some of those proceeds straight to students," Harris said. "We are honored to engage, teach and inspire through the power of rock and roll and create these scholarships to support the next generation of artists."
The renewable, three-year scholarship will provide financial support to two students. Full-time students enrolled in any Creative Arts-related coursework at Cuyahoga Community College with a GPA of 2.5 or higher are eligible.
The scholarship will be administered by Cuyahoga Community College. Recipients will be selected by August 2018.
The Rock Hall also made a gift to a student emergency fund at Tri-C, which provides support to students experiencing unforeseen financial challenges that affect their ability to continue their studies.
April 10, 2018
John Horton, 216-987-4281 john.horton@tri-c.edu